Posted in: Comics, Recent Updates | Tagged: Batman, bernard chang, dc comics, dick grayson, Marcelo Maiolo, nightwing, sam humphries, superheroes, The Judge, Titans
---
Nightwing #40 Review: The Power of the Friendly Squid
Nightwing is at the mercy of the Bludhaven Bay thanks to is last encounter with the Judge. Thankfully, a passing cephalopod offers an opportunity for escape, and, after a brief recovery, Dick finds Lucy. The Judge claimed that she betrayed Nightwing. She tells Dick the current headquarters of the Judge, and our hero launches a final frontal assault against the Judge.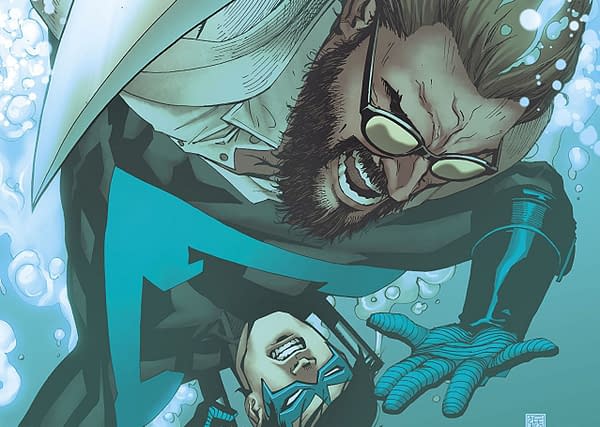 Nightwing using the squid to aid in his escape is easily one of the more bizarre things to come out of this book. It's played oddly straight considering what happens and how dower the tone of this story is.
Speaking of this book's bleak tone, the joyless and angry Nightwing we've had for the past few issues is starting to wear down my patience. The arc has done its best to contextualize why the Judge angers and frightens Dick Grayson, but Nightwing's jovial personality and chipper attitude are among the reasons that he is my favorite Bat Family member. It's just not fun to see him so moody for so long.
It doesn't help that this story has begun to drag on a bit and should have ended this issue at the latest. It doesn't, but it looks like the next issue will finally conclude the tale.
Despite these drawbacks, Nightwing's attack on the Judge's casino is a lot of fun, and you get to see the Flying Grayson crack more than a few skulls with extreme prejudice. He even whips out the motorcycle for this escapade. The Judge has a few entertaining scenes too.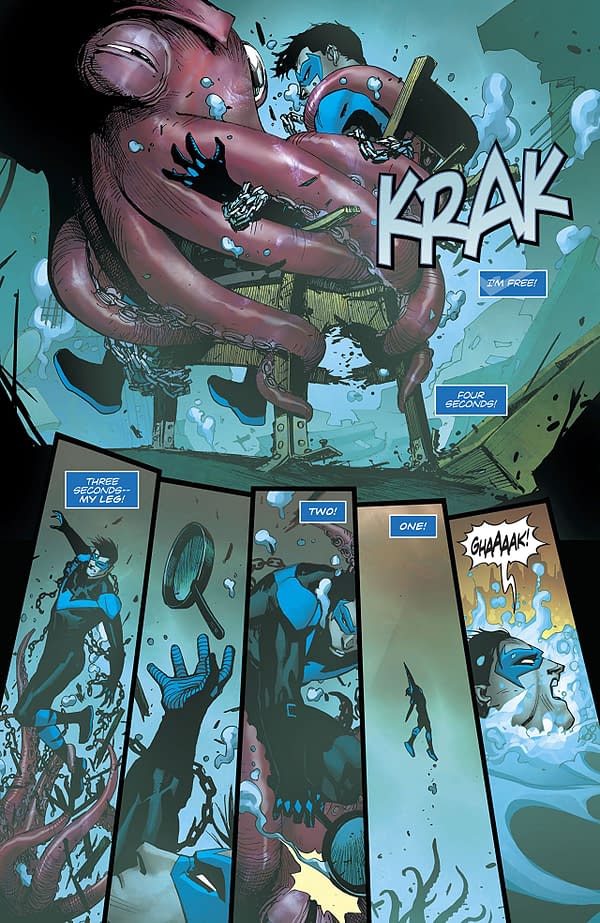 Bernard Chang's artwork brings the impact and catharsis the action sequences needed. Plus, his sleek and futuristic style are a great fit for this title. Marcelo Maiolo's brings an exciting and high energy atmosphere of its own too, and the overall comic's visual design holds together well.
Nightwing #40 has its issues, especially regarding tone and Dick's joyless behavior, but the action and the Judge himself manage to make up for most of the drawbacks. This one gets a recommendation. Check it out.
---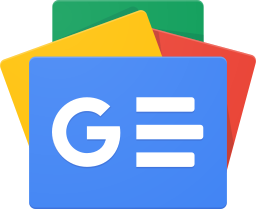 Stay up-to-date and support the site by following Bleeding Cool on Google News today!