Blumhouse's The Purge TV Series Adds The Leftovers' Amanda Warren, Colin Woodell
Blumhouse's television series adaptation of its hugely popular The Purge film franchise is adding two more potential "purgers" to its roster. The Leftovers alumna Amanda Warren (Three Billboards Outside Ebbing, Missouri) and Colin Woodell (Designated Survivor) are set to join leads Gabriel Chavarria (East Los High) and Jessica Garza (Six) on the USA Network/Syfy series. Spearheaded by franchise creator James DeMonaco, Blumhouse Television and Universal Cable Productions, the series will still feature the annual 12 hours of legalized lawlessness but will feature a storyline completely separate from the films. DeMonaco will oversee the series, with Platinum Dunes and DeMonaco's longtime producing partner Sebastien K. Lemercier executive producing the series.
Warren's Jane is a dedicated and hardworking finance professional who is convinced that she's hit an insurmountable glass ceiling at her firm, so she hires a Purge-assassin. Woodell's Rick is finally climbing the social ladder after a lifetime of bootstrapping; but he and his wife must decide how high of a moral price they're willing to pay to impress the pro-Purge elite and achieve their American dream.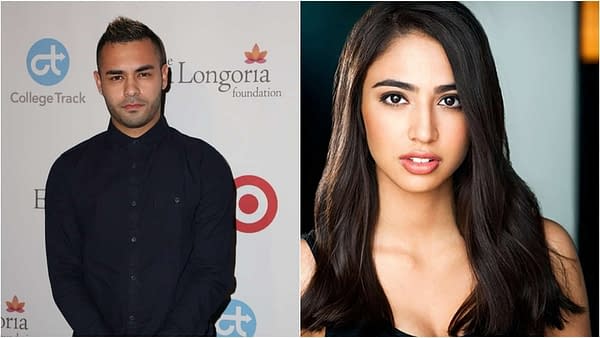 Previously announced, Chavarria's Miguel is a US Marine with a hard edge and a noble mission. After receiving a cryptic letter from his little sister, Penelope (Garzia), he returns to town on "Purge Night" to face the senseless violence in the streets alone in order to protect what he loves most: his family. Garzia's Penelope belongs to a cult that worships "Purge Night". Having pledged herself to be sacrificed at the behest of the cult's charismatic leader, Penelope's faith is put to the test when she witnesses firsthand the ghastly realities of "Purge Night."
Warren has also recently appeared in the film Roman J. Israel, Esq., with Denzel Washington; and on the television side, she's appeared in Netflix's Black Mirror; HBO's The Wizard of Lies; and NBC's This Is Us. Woodell can currently be seen in Steven Soderbergh's film Unsane; and has appeared on Lifetime's Devious Maids and Showtime's Masters of Sex.