The Office Says Goodbye As The Season Winds Down – The Week In TV Ratings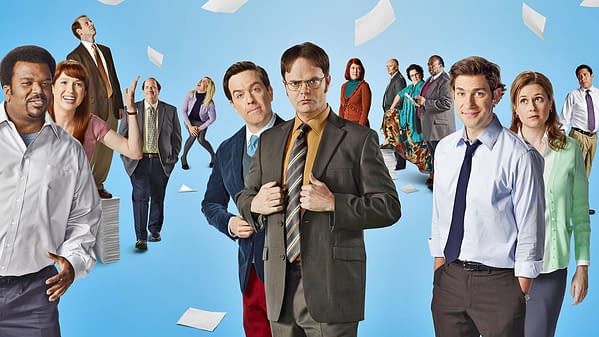 Okay, its over. It's safe to come out now.
Upfronts have concluded and we know the fates of almost everything. We have the trailers, the schedules, and for now, a general idea at what the Fall season will bring for the our shows favourite or not. But we're not in September just yet, so let's dive into the past week.
On Monday, the penultimate season finale of How I Met Your Mother aired to a 3.4 rating – up from the low 2s last week, but still hardly the best the show has ever done, especially for a season finale.
There are fears for Hawaii Five-0 going into next season, as the show is moving from a comfy Monday spot to Friday. The latest episode scored a 1.8, so its fair to say the number will fall significantly on Friday, but its not like CBS is known to have a Friday Death Slot the way some other nets do. At its worse, it'll do a 1.3, I think. We should get a another full season or two of the series as it is still a big brand money-maker, in both syndication and international positions, and heck, its not like CBS have a CSI spinoff to throw there anymore.
The series finale of 90210 scored a ridiculous 0.2 rating with next to no buzz online. Unbelievable.
Other Monday ratings: Castle scored a 2.1, Revolution did a poor 1.9.
Little aired on Tuesday, with only the finale of New Girl and The Mindy Project making any sort of splash. Girl did a 2.1, while Mindy did its norm at 1.3… Uh, maybe a splash is too big a word – a slight vibration in the pond perhaps?
Wednesday was something of a brighter spot, but not by too much. The CW aired Arrow, shooting a 0.9 in the demo, while Supernatural rised up to a 1.0.
Over on ABC, half the line-up is now comprised of burn-offs. The most curious of which is the Sarah Chalke cancelled comedy How To Live With Your Parents, which is still hitting a 2.0 rating. It's legitimately besting everything except Modern Family (3.7). The Middle hit a 1.9, Family Tools did a 1.2. When Suburgatory was airing, it was around a 1.7. ABC must have strong conviction about their upcoming slate of pilots if they can afford to axe a comedy that does the numbers How To Live With Your Parents does, and seemingly will continue to do. Remarkable.
Amusingly, network priorities are highlighted when comparing a 2.0 on ABC and on NBC. Chicago Fire is turning into a little franchise winner for NBC, and its latest ep scored a 2.0. It's such a winner that the series will take a real position of confidence following The Voice next season, not to mention an upcoming spin-off too!
Thursday was a night of finales, with the latest run-down run of American Idol coming to a close. The 12th season of the singing competition was down almost 50% compared to last year, scoring a 3.6 rating.
Another prominent finale on the night was the series ending of the US version of The Office, and NBC celebrated it for two full-hours. At 8PM, NBC aired a retrospective, which scored a number the net likely wishes it could always receive on a Thursday, a 2.1. Following that, the heartwarming finale scored a great 3.0.
NBC are really going to miss The Office come next year. A 3.0 on a non-Voice night? Never!
The extra long season finale of The Office meant that the airing of Hannibal started later, but it wasn't necessarily a bad thing, as the killer series scored a 1.1.
Over on ABC, the soap-centric net also offered up a season finale, with Grey's Anatomy concluding its ninth season at a 3.1. I may be wrong, but with The Office gone, I think its the only series left from the 2004-2005 season that also brought us great, long-lasting shows like House and Lost.
On Friday, the Nikita finale scored a high 0.4. The show will be returning for a final six episode run next season.
Sunday was a night of music and cartoons, as The Billboard Music Awards scored a 3.6 with performances from Macklemore and Ryan Lewis, Bruno Mars among many others. Over on FOX, their Animation Domination lineup concluded, with The Cleveland Show's likely series finale doing a 1.1, The Simpsons winning a 2.1 and Family Guy to bringing home the night at 2.5.