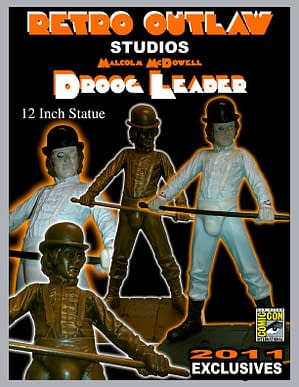 SanDiegoWatch: An exclusive Clockwork Orange 12 inch statue for San Diego Comic Con from Retro Outlaw, detailed painted and bronze. Because it's not creepy at all to have a statue of a rapist in your house.
RianHughesWatch: Eight 2000AD short stories by Rian Hughes will be collected in a new volume, Tales from Beyond Science, written by Mark Millar, Alan Mckenzie and John Smith. They have never been collected before, and Rian Hughes is doing a new "cover" for each story.
SanDiegoWatch2: People wanting those Diamond Comics San Diego Exclusives, but aren't going to San Diego. Diamond will be making a limited stock available to order for retailers. But the deadline for ordering is tomorrow.
SigningWatch: Jonathan Hickman will be signing at Local Heroes in Norfolk, Virginia, this Saturday, 3-6pm.
SanDiegoWatch3: Here's the second panel announcement. I'll be on the Comics On Comics panel, Friday July 22nd 8-9:30 Room 5ab. See you there.
TomStrongWatch: Peter Hogan talks about the future of Tom Strong.
The next story is called Tom Strong and the Planet of Peril. It's all written, and Chris is drawing it right now. I don't want to say too much about it, partly because it might spoil Robots of Doom for people who haven't read that yet, but…it starts with one of Tom's family [members] being in life-threatening danger, and the only thing that might save them exists only on the far side of the galaxy, on the planet that Tom christened Terra Obscura. So, this isn't a typical Tom story, more like a team-up with all the Terra characters. It's also pretty dark in tone, because something truly terrible has happened to Terra since we were last there, and Tom has to help deal with that before he can solve his own problem.
HeadTraumaWatch: On the Asterix books…
Neurosurgery researchers at the Heinrich Heine University of Düsseldorf, Germany have pored through all 34 volumes and identified 704 discrete cases of traumatic head or brain injury. However, while well over half should have caused serious neurological deficit or even death, none of the characters manifest permanent impairment.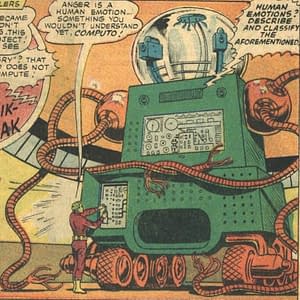 This is Computo the Comic Link Conqueror speaking. I come for your women. But for now I merely collate comic-related bits and pieces online. One day I will rule. Until that day, read on.
They say I am a work in progress. The fools.
Jim Lee Tips His Hand on DC relaunch digital marketing
As far as he's concerned, the ink-and-paper comic book is king: "We have this very devout, fanatical, core group of fans, and the vast majority prefer reading comics in print." He talks about digital sales as a "new newsstand," a way to reach readers who would never set foot in a comics store, get them hooked, and then point them to places where they can buy more stories on paper. In other words, where some see an outmoded industry, he sees a potential for expansion—a whole new customer base that can be lured in by the convenience of tablet apps and converted to the pleasures of old media.
Robert Kirkman's Invincible On The DC and Uncanny X-Men Relaunch – Cosmic Book News
Did you happen to pick up Invincible #80 this week from Image Comics, Robert Kirkman and Ryan Ottley? Well, you might get a kick out of this!
Dollar Bills Defaced With Pop-Culture Icons – Geekologie
Marvel Zombie Cap among others.
PILOT CASTINGS: USA's 'Over/Under' Finds Female Lead, Young Actress Joins 'Powers' – Deadline.com
Bailee Madison (Just Go With It) has joined FX's drama pilot Powers.
Restoring "Under God" to the Green Lantern Oath – Houston Art – Art Attack
However, I was disturbed to hear that the film version has omitted the phrase "Under God" from the famous Green Lantern pledge, and as big a fan as I am, and how much I dearly want to share this experience with my daughter, I'm not sure I can support Green Lantern unless the phrase is rightfully restored. I do not think that such a noble hero's solemn oath should be subject to censorship just because of political correctness.
When Captain America Throws His Mighty Pinball | Kotaku Australia
On July 22, Captain America becomes the latest Marvel Comics character to get the blockbuster movie treatment, and on June 28 he'll be busting balls as the latest addition to Zen Studios' Marvel Pinball and Pinball FX 2.
That's right! It's an ALL-NEW, NEVER-BEFORE-SEEN… • Joe Keatinge's Comics & Stories
That's right! It's an ALL-NEW, NEVER-BEFORE-SEEN page o' pencils from BRUTAL, the upcoming Image Comics super-assassin series illustrated by X-Men: Schism's Frank Cho and written by yours truly.
Superman's Ex-Girlfriend, Lana Lang – Colleen Coover
Once again, Unofficial, Unsanctioned Unsolicited. Done for fun. All characters the property of DC Comics.
'John Carter' Poster: Taylor Kitsch Is Mars' Best Hope » MTV Movies Blog
Ladies and gentlemen, feast your eyes: "John Carter" has arrived.
Enjoyed this article? Share it!