Rick and Morty Vs Dungeons & Dragons: The Story of How it Came to be at NYCC
Written by Rich Epstein
Rick and Morty versus Dungeons and Dragons writers Patrick Rothfuss and Jim Zub were joined by editors Sarah Gaydos and Chase Marotz for a panel at NYCC on Friday. Rothfuss opened the panel by introducing himself as Neil Gaiman, while Zub began by explaining that Rick and Morty versus Dungeons and Dragons should not exist.
On the topic of how it came to be, Gaydos noted that she used to work for IDW (publishers of Dungeons and Dragons) before moving over to Oni (publishers of the Rick and Morty comics) so she had relationships with the people at IDW. She said that publishers often get together for drinks of coffee and discuss possible crossovers, most of which will never happen.
Zub had done a lot of work for IDW, so Gaydos asked him if he wanted to spend all of the good will that he had built up over the years. Zub agreed, figuring the project would never get off the ground, but here we are.
Rothfuss then told how he came on board, which was by spending 20 minutes listing all of the reasons that they should not ask him to work with them, including that he will bottleneck, take too long, miss deadlines, write too much, he has mood disorders and more. In short, he said "I will ruin your project." When they kept asking anyway, he figured why not. It was D&D, which Rothfuss is a huge fan of, he wanted to do a comic and had a story to tell, and it scared the hell out of him.
To that end, Rothfuss had never given up control over a project of his before, and told how he spent three weeks arguing with an editor over whether the word should be spelled "gray" or "grey." His editors would ask him about changes, but at the end, he is the emperor and god of the universe he creates. With licensed products there is almost no control. Zub then said that he's been doing licensed products for years, his soul was broken long ago.
On collaborating with another writer for the first time, Rothfuss grew to enjoy the process, noting that Zub had experience that he didn't, and could get to what Rothfuss was trying to say in pitch docs. Normally, Rothfuss freaks out when people add things, but with Zub, the additions worked, and Rothfuss realized "Oh, this is why people collaborate."
Both writers agreed that D&D was the perfect project to write with a partner as the game is all about collaborative storytelling and hanging out with friends. Rothfuss noted that Rick and Morty is about broken people who manager to love each other. Zub noted that the best episodes of the show are the ones that hit you emotionally.
Gaydos then credited some of the other people who make the comic work, noting that there are 75 editors working on the book. Rothfuss joked (I think) that 45 of them were therapists hired to help the rest of the creative team put up with him.
The writers gave a lot of credit to artist Troy Little, with Zub crediting the artist with the elegant look of the comic. Zub noted that comics are a visual medium, and a good artist can make excrement into gold.
Letterer Robbie Robbins also received praise, as Rothfuss and Zub noted how much more dialogue there is in this series than an average book and yet Robbins makes it work.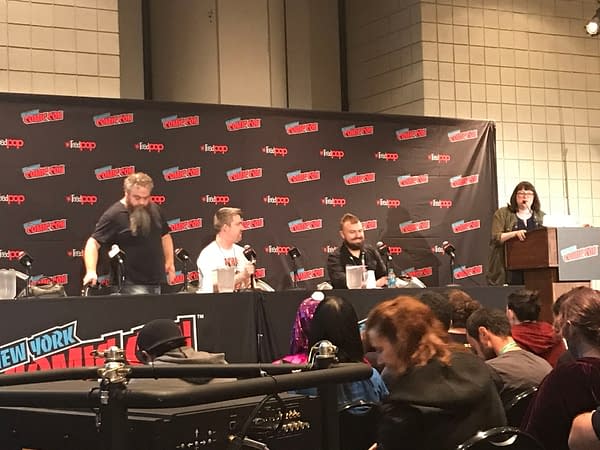 One note for aspiring comics writers and artists, Gaydos said that Zub's website, jimzub.com, is probably the best resource out there, with a series of tutorials and examples from his own career.