Better Grab Graded Copies Of Sandman #1 While You Still Can Sandman #1 is about to take off into the stratosphere. The Neil Gaiman tome is about to finally come to Netflix soon as an episodic show, after years and years of development hell. The first issue, one of the stars at the beginning of the launch of Vertigo, has always been a bit undervalued. That will not be the case anymore, as the aftermarket will be snapping up copies left and right, like this CGC 9.4 copy on auction at ComicConnect, part of Event Auction #46, Session 5. Sitting at $89, this one is going to be a great copy to grab before the numbers really take off. Check it out down below.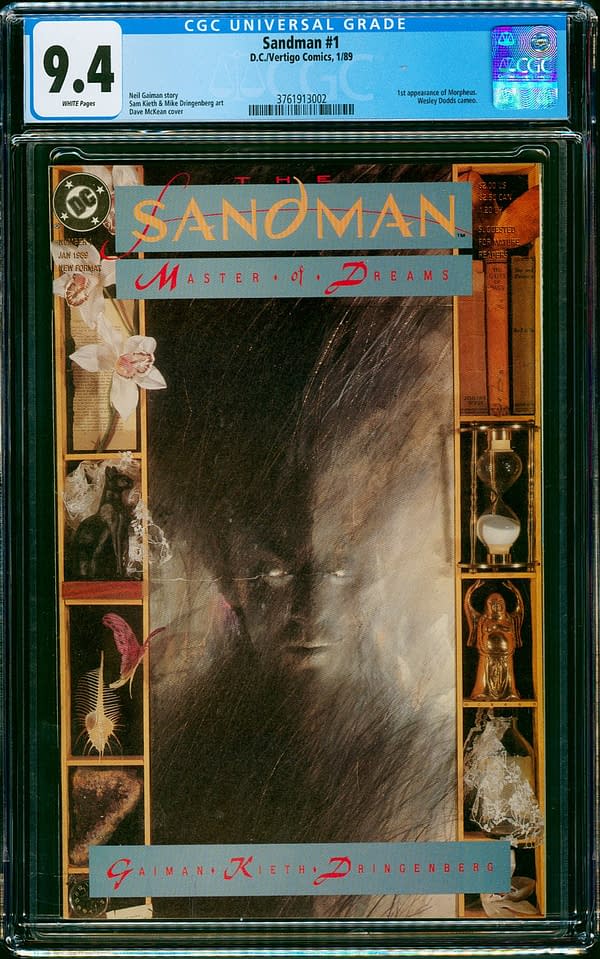 Seriously: Now Is The Time To Buy Sandman #1
"Lauded as one of the few literary comics that actually charted on the New York Times' Bestseller's List, among other graphic novels like Maus, Dark Knight Returns, and Watchmen, Sandman is one of the few comics that has received the acceptance from the intelligentsia as high art, for what it is worth. Atypically, Sandman was supported by a largely female, collegiate readership, and the title would go on to defy convention in many other ways. Based on a somewhat surrealist dream logic, writer Neil Gaiman took a cult Jack Kirby title from the 70s and transformed it into something unique to the comic form, running seventy-five issues; the original series of Sandman centered around its protagonist Dream, aka Morpheus and his journeys through a mythological world, encountering a variety of interesting characters along the way. Starting out as a dark horror-themed comic, the book would eventually veer into fantasy terrain as it proceeded. A most elusive and interesting read, Sandman is a realization of the vast promise of the comic book as a relevant art form, which has helped launch creator Gaiman into the stratosphere as his success continues to propagate across film, television, literature and continues to influence the comic book industry. There are plans for a Sandman series currently underway at Netflix, granting this premiere issue an even more heightened status."
You can go right here to get more info on this copy of Sandman #1. While you are there, place a bid, and check out all of the other books in Session #5 from the Kentucky Collection, there are some doozies in there.