The Avengers #7 Review: Riding the Flaming Woolly Mammoth
[rwp-review-recap id="0"]
Long ago, there was a cave boy who lived with a pack of his kind. However, he was the only one in his pack that could speak or think clearly. One day, a large man with white hair arrived and carved his way to the top of the pack. He could think and speak clearly too. He called the boy Ghost, and then the white-haired man killed Ghost's pack.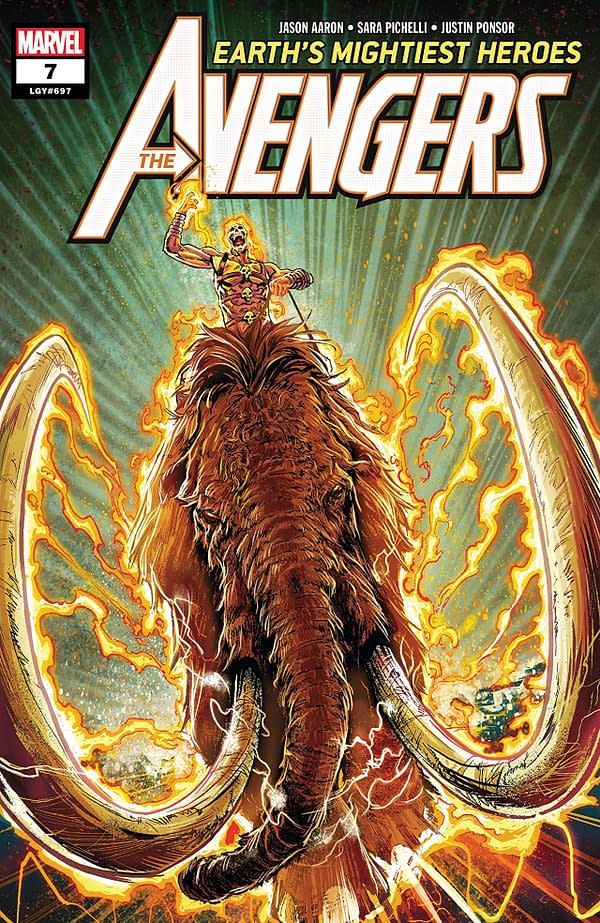 Avengers #7 tells the tale of the Ghost Rider of Odin's Avengers 1,000,000 B.C. It's a familiar tale; the lonely boy loses everyone he knows and makes a deal with a malevolent spirit to take terrible vengeance.
I'm not an anthropologist, but I don't think language quite developed in the manner Avengers #7 posits. Ghost and the white-haired man understand one another upon first meeting one another. Frankly, it doesn't bother me, but I assume someone was going to bring it up.
It's a solid one-off story, though. Ghost is a sympathetic character forever terrified of being alone, and the white-haired man made him alone. Also, a Ghost Rider that rides a woolly mammoth is one of the objectively coolest ideas ever.
The white-haired man is a good antagonist, and he is someone familiar to the Marvel aficionado.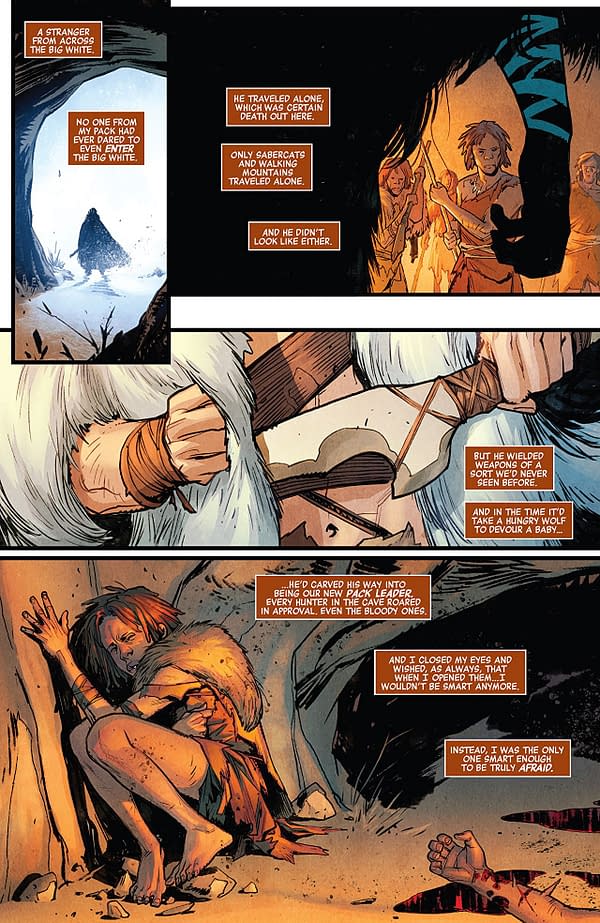 Sara Pichelli joins up as the artist on this issue, and her work is as gorgeous as ever. The Ghost Rider looks great, and the aesthetic is used creatively in the prehistoric environment. I would like to see Sara Pichelli be the artist in an ongoing Ghost Rider series soon. Justin Ponsor's color work is bright and looks great.
Avengers #7 is a solidly entertaining origin story for the first Ghost Rider. It's dark but doesn't quite wallow in its grimness, and the pacing moves quick and never drags. This comic is worth a recommendation. Feel free to check it out.
[rwp-review-ratings id="0"]
[rwp-review-form id="0"]