The Immortal Hulk #4 Review: A Weak Link in the Chain
Reporter Jacqueline McGee meets with Walter Langkowski, aka Sasquatch of Alpha Flight, at an airport in South Dakota. They investigate a recent Hulk siting while Walter explains his history with Bruce Banner to Jacqueline. During the search, Walter is stabbed while trying to break up a bar fight. Jacqueline takes him to a hospital and sees an unexpected face.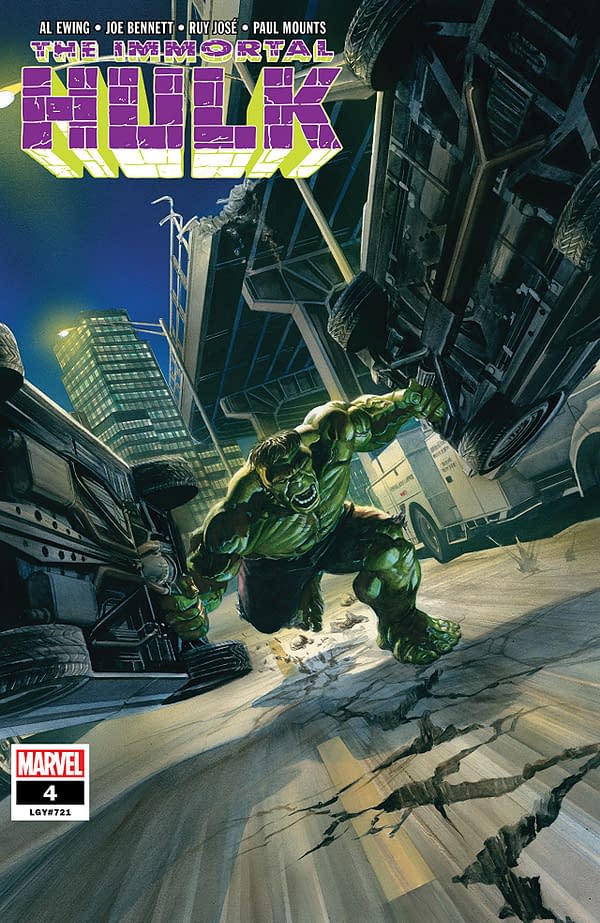 Immortal Hulk #4 is a first for this series in multiple ways. It's the first to spotlight a guest star, the first to end the comic without ending this particular story arc, and it's the first to not feature the Hulk himself.
Bruce is in this comic, make no mistake, but there is no Hulking out.
It's also the least good issue so far, though that's not inherently because any of the above-mentioned qualities.
The real problem is that the comic is slow and not all that interesting. I like Sasquatch well enough, but retconning in a collegiate history between Walter and Bruce Banner isn't exactly guaranteed engagement. Something interesting could be done with that, but the most notable thing to be said about that flashbacks to college is that Bruce was apparently a tad jealous of Walter and touchy about his involvement with the sciences.
Immortal Hulk #4 isn't outright bad. It just pales in comparison to the previous three incredible issues of this Hulk run.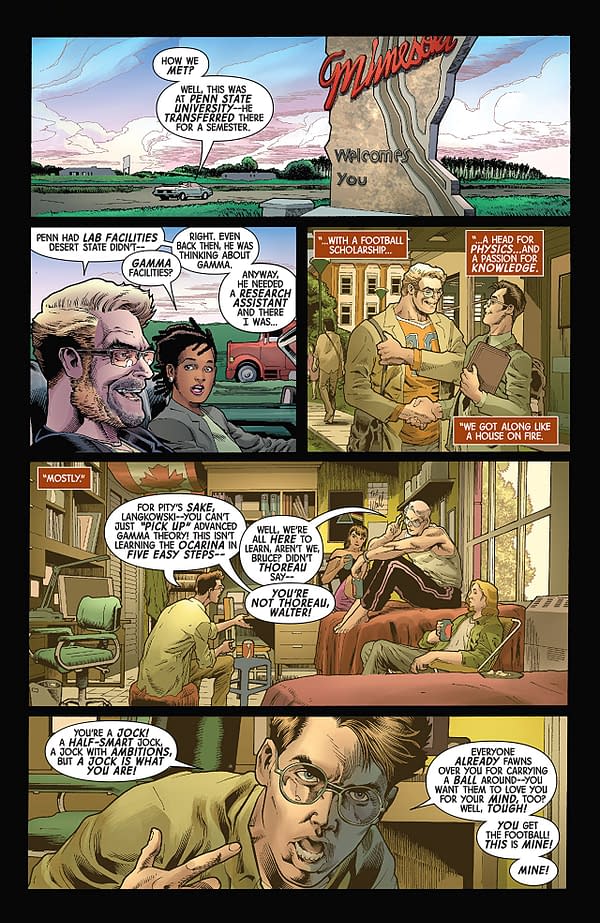 Joe Bennett continues to craft a good-looking book, giving enough style and detail to make this look like a living and breathing world. Walter Langkowski is made to look creepy, but I'm unsure whether that was deliberate. The overall book doesn't have a lot to work with in terms of delivering interesting visuals, but Bennett makes do with what he has. Paul Mounts provides some warm and balanced color work to boot, and the finished product displays some visual talent.
Immortal Hulk #4 is a decent issue. It brings in the Sasquatch, sets up a conflict between he and the Hulk, and the artwork is solid. It's not great, but I can recommend it. Feel free to check it out.