The True Lives Of The Fabulous Killjoys Vs Six Gun Gorilla
Two launches from two companies today. Both involving various post apocalyptic scenarios, and both heavy on the media satire. Six Gun Gorilla reminds me of a Robert Heinlein book through a Jack Kirby filter with just a touch of the Ennis. It's a remarkable reworking of the original, it abandons any period detail and transplants the idea of a gun slinging Wild West primate to the future, to a war torn environment that send out the suicidal to fight their wars and entertain the masses at home, exploited and directed by the companies in charge. We have people with something to prove or nothing to lose, and a complex multilayered world created to house them, exploit them and kill them. There are elements of the recent Prophet revival here, but far closer to our world and experiences. And then on top of that there's a underlying note of the idea of the creator of a character, specifically with a character who no one seems to know who created him, the Six Gun Gorilla, which underlines the whole comic.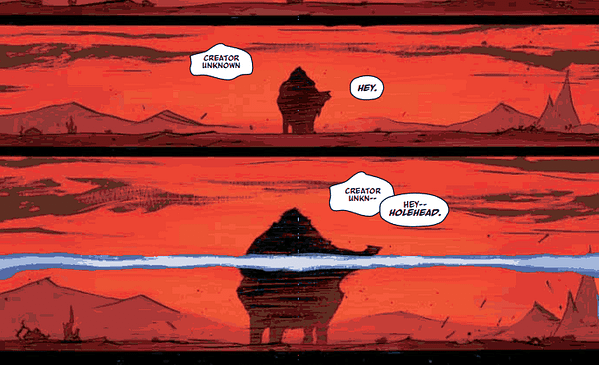 The True Lives Of The Fabulous Killjoys spinoffs of characters and scenarios set up in My Chemical Romance songs and videos, which is very much focused on the idealised idea of youth, experimental and free, wrapped up in music, sex and fashion, being repressed by The Authority. Those that oppress are literally expressed as monsters – and what's worse, monsters that were once the young people themselves. If Six Gun Gorilla is an example of government that encourages hedonism as a way of controlling a population, True Lives is the opposite. But against that is controlling governmental system, and one enforced by people in shock masks that transform the person within, we have rebellion, freedom, a desire to fight back and live independently, even though those consequences may be dangerous in and of themselves. Of course, as a forty year old man reading this I'm thinking "you know, these BLI fellows probably have a point, what is it with these punks and their clothes and music, seriously, shouldn't they be in school, or doing a job or something?" Which means, yes, I am super old. Though not as old as Grant Morrison.

Stop staring at me, Grant Morrison.
Despite both these books, being opposites in that respect, I could quite happily believe that they could co-exist in continuity, the country and the city, Earth and far away, hedonism for entertainment but strictly controlled and governed with headphones only allowed to go up to 6. There's even a simpatico of art styles between Jeff Stokely and Becky Cloonan.
So The True Lives Of The Fabulous Killjoys Vs Six Gun Gorilla? Buy both and let the song last longer.
Comics courtesy of Orbital Comics, London. Tonight sees the launch of Jason Atomic's Satanic Mojo, inspired by underground comics with work from Atomic, Shaky Kane, Garry Leach and more… for adults only. Go to the gallery and buy the comic… adults only.