The Walmart Report: New 4 Packs, DC Supply, Diamond Demand
By June 21st Walmarts through the United States are supposed to have 4 Packs of "new" DC comics in stock, displayed, and ready to sell. It's ironic that 2 years to the day that the Walmart "exclusive" Giant line was annouced (it was June 22nd 2018), DC ends that line and instead gives Walmart four packs of comics that it has already made available to Local Comic Book stores. This should make LCBS happy, right? Well, gonna have to say no on that.
The DC Giant Line Ends
In the continuing series of moves that DC makes that pretty much seem to royally annoy, or outright enrage, LCBS owners, DC has ended the DC Giant Line. Once it was the exclusive domain of Walmart, with creators Tom King, Brian Michael Bendis, and more, creating exclusive content only for Walmart. Then the line was relaunched, with LCBS now getting the same new content mixed with reprints that Walmart would get, just Walmart was geting them a month to two months earlier. Announced yesterday this line of $4.99 books has ended, not just at Walmart but for LCBS, following the announcement two weeks ago that DC would not end up publishing 4 of the remaining issues of the Giant Line for LCBS to sell, instead making those last issues Walmart physical exclusives. To replace the monthly content that Walmart was receiving from DC, stocked at many but not all of their stores, DC has instead created and sent out five sealed four packs of comics.
Each four pack of comics focuses on one DC character / team, with one Batman pack, one Superman pack, one Wonder Woman pack, one Aquaman pack, and one Justice League pack. This branding is even obvious when they are rung up at the check out counter, as the Batman pack rings up as DC Batman Four Pack, and so on. Costing $8.98 per pack each pack contains one main comic shown, and three comics behind it, shrink wrapped with a backing board display, using some great Terry Dodson artwork from Justice League Volume 4 #28, stating "each exciting DC pack includes four comic books. BONUS! Collect all five DC packs to complete the panoramic poster of the DC heroes!" Under that blurb each pack is labeled as including image __ of five, with the Batman pack being 1 of 5, the Justice League pack being 2 of 5, the Superman pack being 3 of 5, the Aquaman pack being 4 of 5, and the Wonder Woman pack being 5 of 5.
So What's Inside?
Walmart has sold shrink wrapped packs like this for years now, but before the packs seemed to be loose assortments of books purchased from unsold stock and then slapped behind a reformatted variant cover with the books rarely being consistent from set to set. The packs of Marvel comics sold at Walmart still follow this trend, though they have become more collectible by making the front facing variant cover a true and exclusive variant cover. With the launch of the Giant Line DC got out of this practice, though they occasionally still would have packages available with the Giant Line, though those again just collected unsold stock.
This time the packages are set with each package coming with the exact same comics in each pack. Pack 1 comes with Batman #89 Third Printing, Wonder Woman #755 Variant Cover, Batgirl #45 Variant Cover, and Detective Comics #1022 Main Cover.
Pack 2 contains Justice League #45 Variant Cover, Flash #753 Main Cover, Green Lantern Season 2 #3 Main Cover, and Hawkman #23 Variant Cover.
Pack 3 has Superman #21 Variant Cover on top, Supergirl #40 Main Cover, Action Comics #1022 Main Cover, and Justice League Dark #22 Main Cover.
Pack 4 includes Aquaman #59 Main Cover, Batman Beyond #43 Variant Cover, Shazam! #12 Main Cover, and Teen Titans #41 Variant Cover.
Pack 5 finishes with Wonder Woman #755 Variant Cover (again), Year Of The Villain Hell Arisen #3 Third Printing, Catwoman #22 Main Cover, and RWBY #1 Main Cover.
In addition to that on the back side of the Dodson board, a part of an exclusive "poster" is included with artwork by Ivan Reis. The image on each pack does focus on the character the pack is centered around though the artwork does not line up by the numbers provided, instead laying left to right in order with image 2 going first, then image 1, image 3, image 5, and finally image 4, as shown below.
So these new DC packs are just repackaged comics that LCBS already had, just at a cheaper price right? Well yes, but the discount is almost to the point that the comics offered here at $8.98 a set is as good a deal or better then some LCBS get wholesale, with each comic costing $2.25 a comic before tax. However, these are all comics from the past month or the month before that, but some of these comics are so recent, Action Comics #1022 came out just 2 weeks ago in LCBS that that is quite a turn around. Except one thing that is shown is despite how DC may delay their Walmart announcements until right before the books come out, these deals take time to coordinate.
One thing to consider is that past packages like this that Walmart has sold, be it for DC or Marvel, is that the books are at least two months old or older. The top variant cover, or top comic may be very new, but the main cost saving measure that makes these sets worth selling is that they are taking comics that LCBS have had, most likely returned as damages, or didn't buy all the copies of to begin with, meaning they are then liquidated and bought up. There are several companies that do this with several convention sellers making a good profit selling older exclusives that Diamond never sold all of the print run of.
These new DC sets though do not contain books old enough to have gone through this cycle meaning DC sent these books to be packaged specifically. The indices in the comics match the indices in copies sold at LCBS, and the covers are not different at all, meaning that these copies came from the same print run and printers that the ones sent out through Lunar, UCS, or Diamond. For LCBS this can be a bit of an issue as many of the titles in these sets were back ordered the week they came out, such as Action Comics #1022 Main Cover, at Diamond, meaning their print runs were sent instead to Walmart to be sold instead of being available for retailers at LCBS to get after their initial orders were canceled. This combined with the huge price cut is another sign that DC doesn't seem to really have much of a priority for LCBS.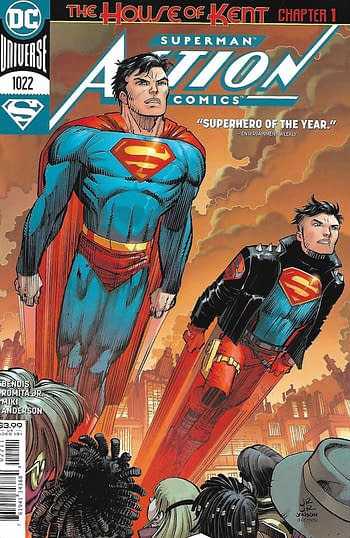 For collectors and readers these sets may be a good way to get a batch of issues cheap, but $8.98 a set for issues you may already have some of is not something many collectors will invest in. If this is the business model going forward between DC and Walmart, collectors could save money and DC business will decline more at LCBS. Except, until the sets for each month come out and someone breaks down what is in each, collectors have no idea what they could be getting. The main element that drove sales on the DC Giant Line for Walmart was having content before the LCBS, now they get it a month or two behind them. Sure it is cheaper but collectors are not going to wait for books on the chance they might get them cheaper.