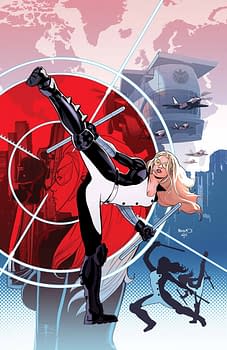 Marvel exec, and Bleeding Cool favourite, Tom Brevoort chose to respond to this question, asked on his Tumblr,
Why do you claim the comics are independent of the TV and movies when you have crap like Lance Hunter being Bobbi's being ex-husband shoved into the comics by the movie/TV studios?
He replied,
Clearly you're reading Click-Bait, rather than the comics themselves if you believe this.
Or, as we did point out, you can read the writer of the comic on not-exactly-click-bait site CBR.
You know who else I love? Lance Hunter. He's Bobbi's ex-husband on the TV show, because I guess Clint was busy. Hunter is a smart-ass romantic who works for a shadowy government organization. Sound familiar? I know! Bobbi sure has a type.

Anyway "the studio" wanted Hunter in the anniversary issue, so as not to confuse things (more). They never call "the studio" by name — it's just always "the studio." I kind of thought it was funny — the fact that Bobbi has these two almost interchangeable ex-husbands, both of whom are in no way over her, so I tried to have fun with that in the one-off.
Who you believe, well that's all down to you.
Enjoyed this article? Share it!