Venom #160 Review: Dumb but Fun Symbiote Extravaganza
[rwp-review-recap id="0"]
Venom, Anti-Venom, Mania, Black Cat, and the Amazing Spider-Man are gearing up for an assault on the meeting place of the Five Families, which has just been taken over by Lee Price, aka Maniac, and his symbiote-infested hordes. It's up to these five to free the victims and bring Maniac down.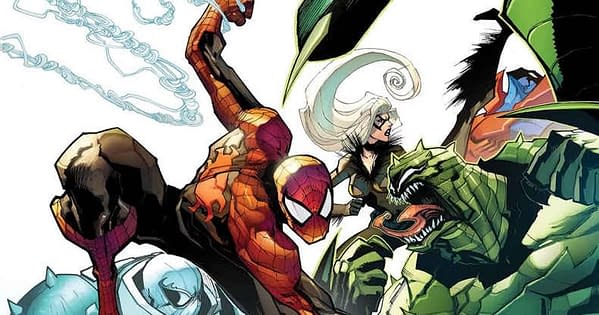 You know what? If this is what Venom Inc. has been intending to build up to, then I'm kind of okay with it. It does suck that it waylaid the Venom title somewhat, and it tied into some awful issues Amazing Spider-Man. All that said, this issue was a bunch of fun.
It's pretty straightforward, too; these five against a bunch of symbiote-infested villains and mafiosos. Eddie Brock gets a couple of big honking guns that shoot Anti-Venom bullets, Black Cat coats her claws in the stuff, Flash is toxic to the symbiotes thanks to his new suit, and Mania still has hex powers from her Hell Sign.
I like that I'm implicitly getting to reference Rick Remender's "Circle of Four" arc from his run on Venom with that.
Don't get me wrong. This comic is not deep. It's pretty dumb, and the closest thing to a character moment is when Eddie does something that he knows risks his symbiote to save the others. There is also a pretty funny moment between Spider-Man and Hammerhead.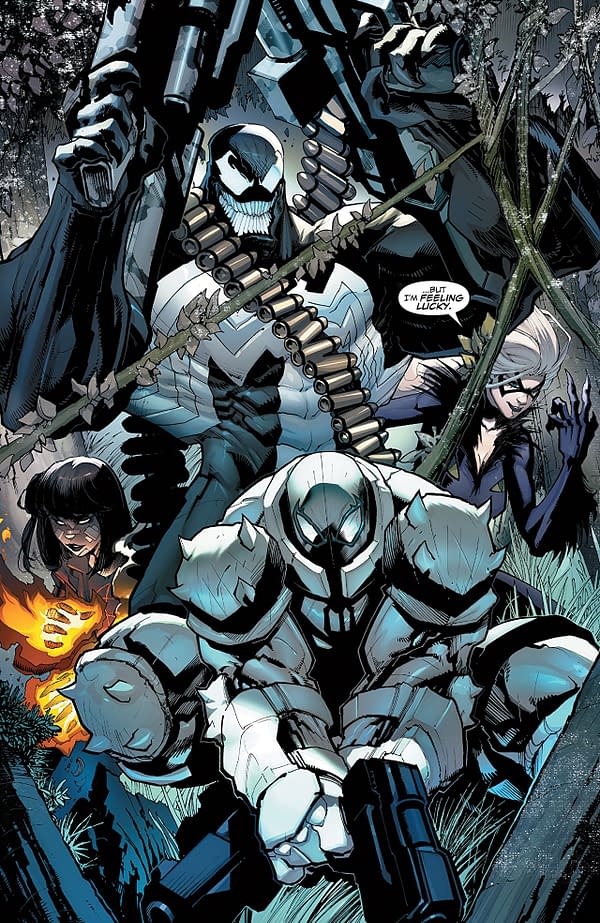 Gerardo Sandoval may have been the perfect choice to pull this kind of thing off. His stylized, fluid, and shifting art allows for this Brock-Room Blitz to come to life in an exciting and kinetic manner. David Curiel clashes the colors in a balanced way. It pops and draws the eyes to the page.
Venom #160 is easily the best part of this mess of a crossover. It brings it all together, it's fun, and I certainly enjoyed my time watching this symbiotic smorgasbord. I think you will, too. Give it a try — I recommend it.
[rwp-review-ratings id="0"]
[rwp-review-form id="0"]