Venom #161 Review: A Nice One-Off Before the Next Crossover
Venom is cured. His tangle with Flash Thompson has brought the creeping madness in the symbiote under control, and he goes to celebrate by bringing in the Looter. Unfortunately, Spider Woman was watching, and she still thinks that Venom is a monster. This leads to another fight with a Spider-person for Eddie.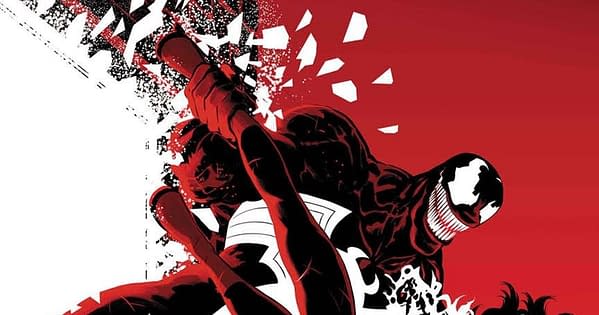 This issue kind of serves a soothing isle between "Venom Inc." and "Poison X." It's a reminder that this book is worth following despite the ridiculous inundation of crossover events with every other Marvel character under the sun.
Plus, it's nice to see Spider Woman back in the forefront of a comic once more. I really miss her title under Dennis Hopeless and Javier Rodriguez.
In any case, the conflict of this comic is a good one. Spider Woman isn't familiar with Venom, and she isn't the same kind of person as Spider-Man. As such, it makes sense that she may would see Eddie Brock and immediately think evil still.
This issue also does a coupe of other things smartly. First, it shows Venom making some genuine effort to make the world know he's not a bad guy. Secondly, it expands on the relationship between the symbiote and Eddie. It plays up the symbiote as its own (quite charming) character, and it pushes the idea that the symbiote may not communicate everything to Eddie for one reason or another.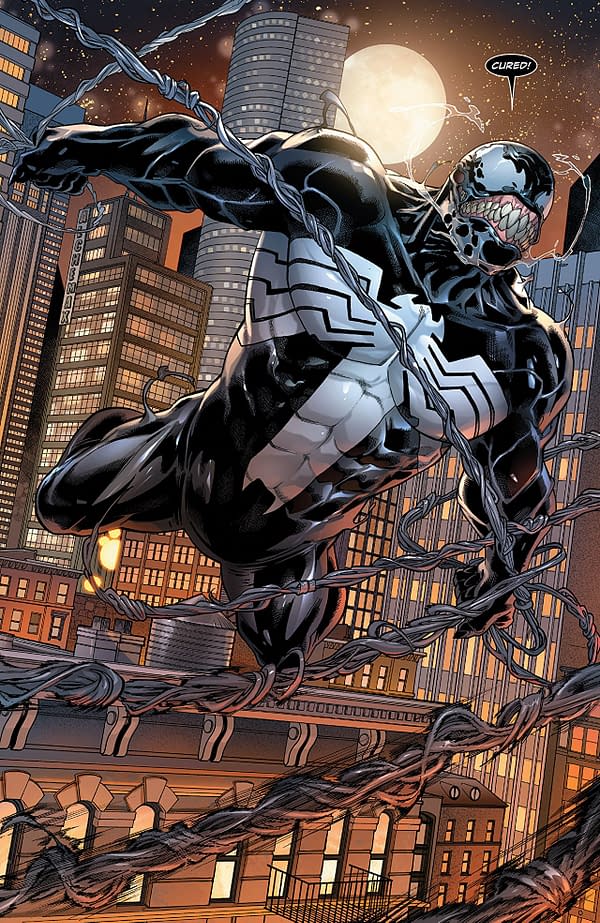 On top of that, Javier Garron's art is absolutely gorgeous. It's highly detailed, has great depth of field, and he plays with angles and perspective a fair amount. Spider Woman looks as badass as ever too. Spider Woman should always look badass. Dono Sanchez-Almara and Erick Arciniega cover the color aspect of this book, and it looks great. It plays a lot with the nighttime setting and dark colors to create a palpable atmosphere that is played with in the different venues.
Venom #161 is a fun and character-driven one-off tale that reminds you that comics can sometimes just tell a contained story. The conflict is well-managed, the characters play off one another well, and the artistic team work together to make this a truly beautiful comic. This one comes highly recommended. Give it a read. You don't even need an X-Men comic to follow this story.