Just About Every Walking Dead Comic Ever is in an Auction Ending Today on Comic Connect Walking Dead back issues are one of the few modern comics that has held on tight to value for its early issues and keys. Some of that is due to lower print runs on the early issues, not a problem with the later issues. Of course, all of the key characters and events that take place on the widely popular television show have inflated value as well. Consistently over the last 15 years however, fans continue to gobble up whatever they can get their hands on.
Today on Comic Connect, an auction will end with basically every single issue of Robert Kirkman's zombie epic up for grabs. Most are CGC graded, many of them in the high 9.0's and as high as 9.8. The crown jewel is a CGC 9.8 copy of issue #1 that as of this writing is sitting at $1,900. Clicking here for the auction you will notice that there are copies in similar grade all the way through the history of the comic, along with many variants. Ever attended a Wizard World show? Many of them had exclusive covers for #1 commissioned for the shows, and many can be found here. Issue #100 was a landmark issue, and many of the variants and rare editions are also included.
The best part is that once you get to the later issues of the comic, many of the auctions are deeply affordable. Many are still going for less than the cost of the books grading. Check out a few choice auctions down below.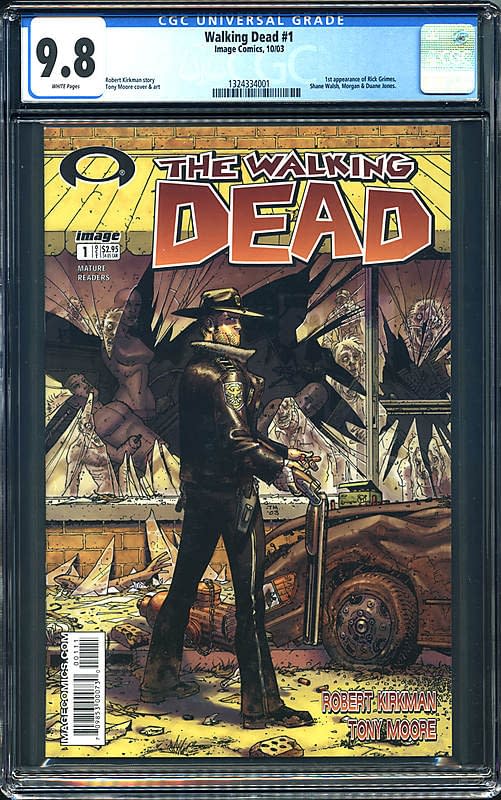 Image Comics' creator-driven formula breathed new life into graphic literature in the '90s as many of the most popular titles for contemporary comic readers find their roots in the publisher. Image broke the mold again with The Walking Dead. Upon its release in 2003, The Walking Dead picked up in popularity, gradually gaining a cult following up until 2010, when it won the Eisner Award for Best Continuing Series alongside the announcement of the TV series that would soon become a runaway success, ensuring boosted sales for years to come. Only 7,200 copies of the original printing of the first issue were ordered by comic book shops across North America and high-grade examples sell for record prices nearly every time one graces the market. There is no other comic from the last 15 years as valuable as this title.

This copy of Walking Dead #1 is in pristine condition, as if it rolled off the printing press directly into a CGC case. Bearing only the slightest of imperfections, this most valuable Modern Age key is sure to receive serious attention at auction. You need to own this iconic comic before the price is out of reach!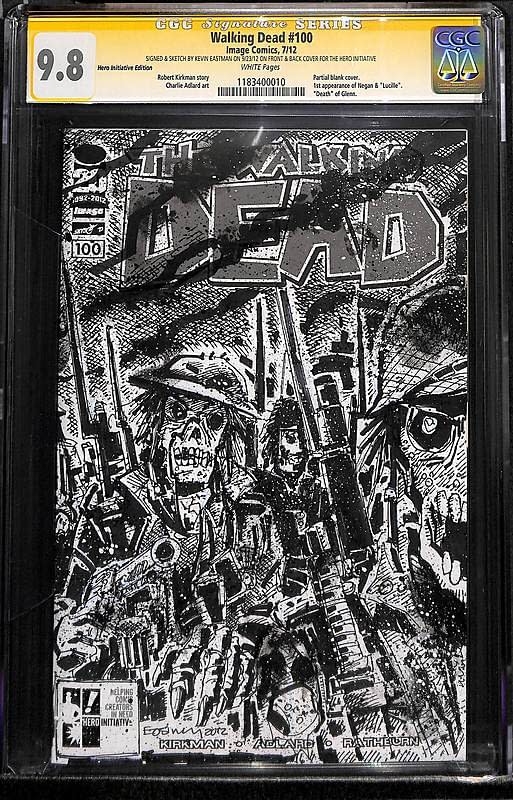 WALKING DEAD #100

Publisher: Image

Grade: CGC NM/M: 9.8

Hero Initiative Kevin Eastman Sketch Cover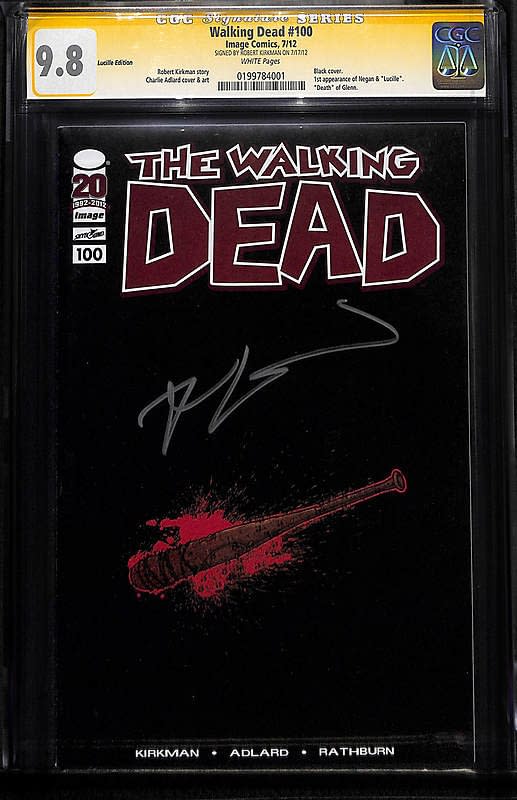 Everyone that is a Walking Dead fan knows that issue #100 was a game-changer, the issue ushered in the legendary villain Negan and introduced his weapon, the barbed-wire wrapped baseball bat, Lucille, and let's just say, it was not a happy day in TWD land. This issue is considered a turning point in the storyline of the comic, as it was in the televised version as well. Before the book came out, creator Robert KIrkman warned his fans that it would be the goriest and most shocking issue of the series yet, which led to record breaking pre-sales and the highest amount of variant covers produced for the run, possibly of any comic ever made. Besides issue #1, this is probably the second-most important issue in the series. Which is saying a lot considering how many iconic moments and indelible images have been dumped into the collective pop culture consciousness of fans of this Modern Age classic.

The story behind the "Lucille" Edition of TWD #100 was that it was given out as a retailer incentive copy, sent to dealers who placed large orders of issue #100, only one copy was given to each retailer making this a rare and sought after variant for serious TWD completists. All copies of the "Lucille" variant were intended to be signed by series creator Robert Kirkman, like this example, but a few were released unsigned. So, when you add the Kirkman signature and the extreme rarity of this variant together, and it is also a highest graded copy, you can expect Walking Dead collectors will be salivating over this book like a zombie over some brains.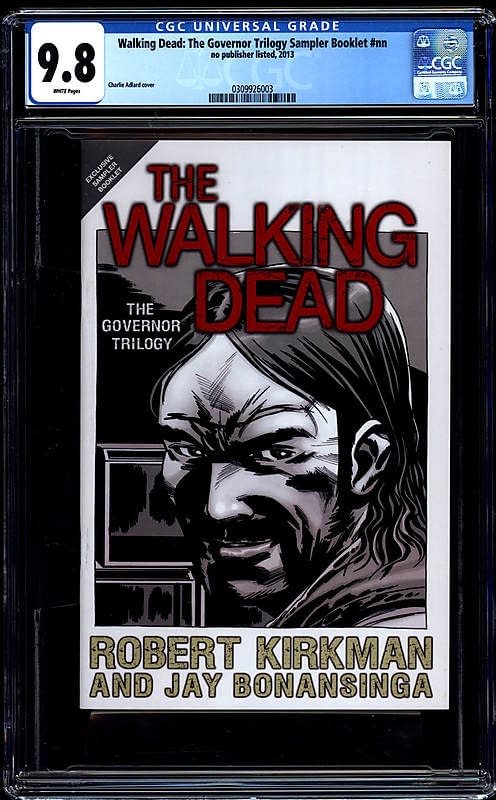 WALKING DEAD: THE GOVERNOR TRILOGY SAMPLER BOOKLET N/A

Publisher: Image

Grade: CGC NM/M: 9.8
WALKING DEAD: ALL OUT WAR N/A

Publisher: Image

Grade: CGC NM/M: 9.8

Variant Covers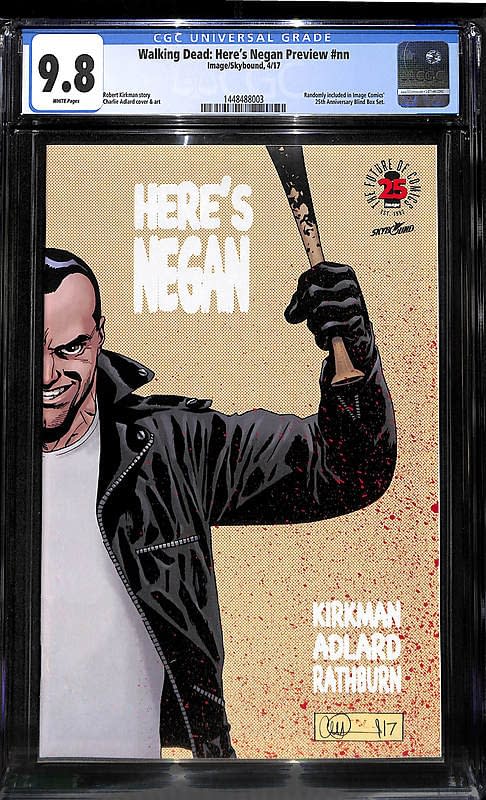 WALKING DEAD: HERE'S NEGAN PREVIEW N/A

Randomly included in Image's 25th Anniv Blind Box, only 500 copies printed
Click here
to visit the auction page to check out all of the offerings.