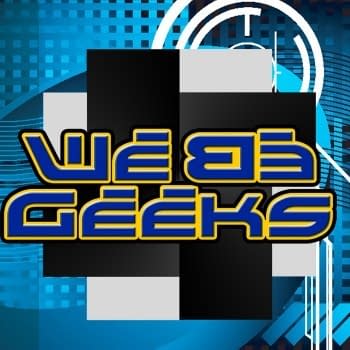 [audio: http://webegeekspc.com/podcasts/Episdoe_150_Year_In_Review.mp3]
Bleeding Cool welcomes back We Be Geeks, hosting a variety of guests and covering a wide range of geek topics.
Episode 150 extravaganza. This week we join forces with Ken, Kylan, Vicky, and Dawn from Geek Watch One. Also the long lost Marty makes an appearance in the festivities. Like the Avengers crossovers of old. This was epic. We talk best and worst TV shows of the year. We also pass judgment on the best games and movies as well. Did your favorite make the list? To top it off we have our first annual Webe's. Counting down the best graphic novels, mini-series, and comics of 2015. You don't want to miss this action packed episode.
Follow us:
Twitter: @webegeeks, @JulzHendricks, @nesofgeek, @geek_happenings
Facebook: We Be Geeks
Superheroes by day, Podcasters by night! The We Be Geeks Podcast is hosted by Mike Ehmcke (@webegeeks) Along with Julz Hendricks (@JulzHendricks), Derrick Nadeau (@nesofgeek) and Brett Dasilva (@geek_happenings) as Co-Hosts, this podcast is on fire! You can find us on Facebook as well as the We Be Geeks official site. Check out our Patreon and support the show.
Enjoyed this article? Share it!