Wonder Woman #46 Review: Abandon Ye Old Gods
[rwp-review-recap id="0"]
Cheetah is captured by Veronica Cale, whom wants to examine Barbara Minerva further. However, the Cheetah soon gets free and begins a warpath through Cale's headquarters. Wonder Woman stops Minerva from killing Cale, but the Cheetah begins a bizarre rant about "new dark gods" arriving on Earth. Disturbingly, Diana sees something which supports these ramblings.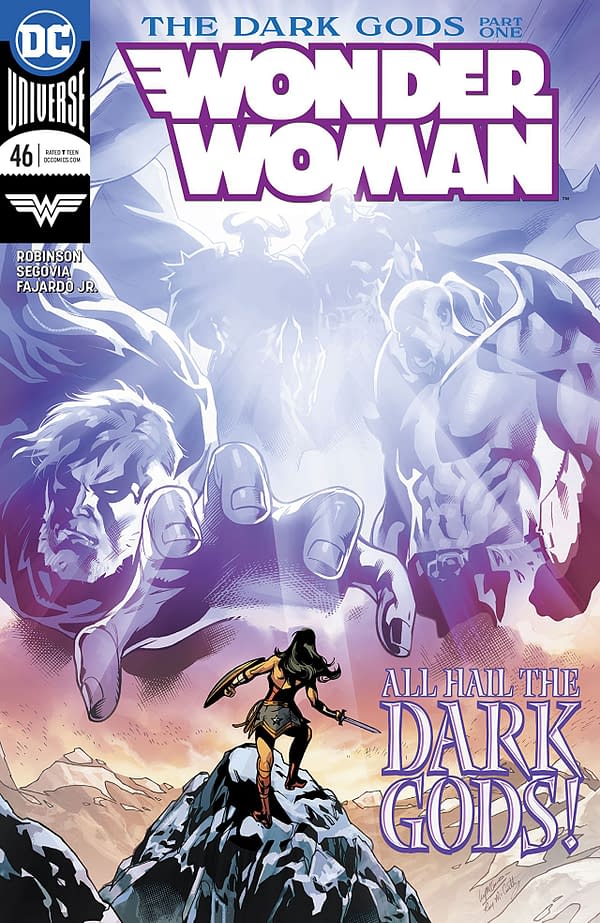 Wonder Woman #46 is among the better issues of the title I've read in some time. It's well paced, keeps up the tension and intrigue, and presents a nice premise going forward.
Admittedly, I'm a sucker for villain-centric comics, and most of this book centers upon Cheetah. There's a lot of bloodshed too, as Barbara Minerva is taking no prisoners from Cale.
The dialogue, which has been a problem throughout much of James Robinson's run on Wonder Woman, holds steady throughout this book. There was never a line that frustrated me.
The encounter between Diana and Cheetah is great. While there is no overt pity for Barbara Minerva like in Greg Rucka's run on this book, it is a fun hero vs. villain fight. Plus, the promise of coming dark gods has me interested in where this could go. There are a lot of cool places to a concept like this could lead.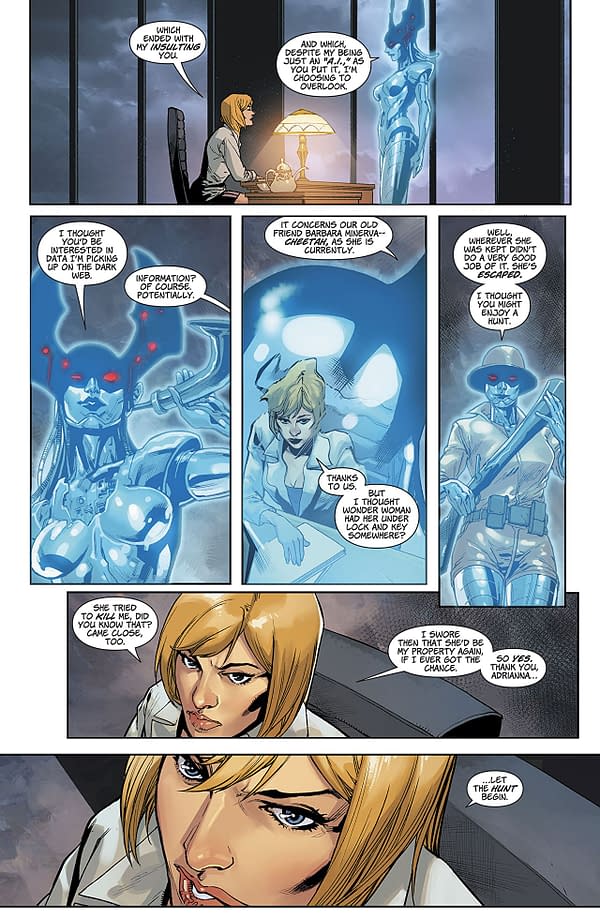 Stephen Segovia's artwork impresses with a detailed and action-oriented style that gives a lot of visual life to the comic. The fight between Diana and Barbara looks especially great, and the weight of each blow is palpable. Romulo Fajardo Jr.'s color work is vibrant and plays well with the shading of the book. This comic looks great.
Wonder Woman #46 is a refreshingly good issue in this recently troubled title. The story is interesting and paced well. There is a lot of action to cut up the metaphysical nature of this new threat. While Wonder Woman and Cheetah may not be given the emotional depth previously granted by Greg Rucka and Shea Fontana, this book manages to stay interesting with its premise and energy alone. Plus, the art team does great work. This one gets a recommendation. Pick it up.
[rwp-review-ratings id="0"]
[rwp-review-form id="0"]