Writer's Commentary – Frank Barbiere on Dejah Thoris #1
Writer Frank Barbiere comments on issue #1 of the new Dejah Thoris comic from Dynamite. Cover art by NEN, interrior art by Francesco Manna.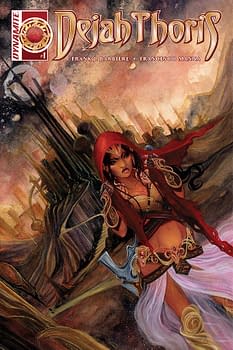 PAGES 1 & 2
I knew I wanted to open the book with a glimpse of what was to come, that being Dejah in her new "Larka" identity and in heated combat. I think it makes for a compelling opening and omen of things to come, and a big theme is mirrored here in the narration—life and positions of power are cyclical.
PAGES 3 & 4
This issue doesn't rely much on narration, so it was important for me to show Dejah in her element (that being the city of Helium). It's particularly notable that Dejah mentions Helium is the center of her world—obviously we know she's going to be leaving it, and it's important to see her character at ease. Obviously Dejah's plans for the day are rudely interrupted.
PAGES 5 & 6
Dejah learns of her father's disappearance and we get our introduction of John Carter and Valoris. Valoris, who we reveal to be our "villain" is here to help at this point, not playing all his cards. Carter is also at a loss—something I thought was very important for a series about Dejah. John can't just run in and punch his way out of this conspiracy—it's going to take far more. Dejah learns that she is to become Queen. This is huge for her—but under these circumstances, she's far from pleased.
Also—Thana's spying!
PAGES 7-9
John has turned up nothing, but we get a glimpse into his relationship with Dejah. They are a perfect couple of equals—they both have great strength and leadership qualities, and the last panel on page 7 reinforces the idea that together they are a force to be reckoned. Knowing Dejah will have to go out on her own, it was important for me to sell this sentiment to our readers.
Dejah is rudely awakened, and this time placed under arrest. John won't stand for this, but even he is not foolish enough to go against the acting agent of the King. There is some deliberation about whether this is out of character, but I'd like to believe that at this point both Dejah and John believe that things can be cleared up and are more confused than enraged.
PAGES 10-14 Dejah now imprisoned. She still refuses to accept the gravity of the situation, but we get a nice moment showing her refusal to be afraid. John's inability to act against Valoris is meant to show the futility of brute force against politics. Again, this isn't a fight he can punch through—it's a calculated attack.
Also, an extremely important plot point—a memory shaken loose inside Dejah. These accusations seem completely false, but something inside Deajh is tugging at her—she knows there is some truth to be unraveled. As we've established, her identity to this point revolves around being a Princess of Helium, so this is EXTREMELY SHOCKING. This is largely a book about identity and how it defines us, and Francesco and Morgan did a beautiful job with these scenes to show their importance visually.
Dejah realizes this is a personal journey and problem, and pulls away from her husband. This is in strict opposition to her being a team with him, to being able to solve everything together. Dejah's core identity is shaken here, and it makes perfect sense that she will have to go this one alone. She believes in her husband to resolve a conspiracy, but the truth of her lineage is truly a personal journey. PAGES 16-19
Dejah is able to stop her would-be assassin, as she is quite capable, but then receives aid from THANA. A big part of this book is Dejah realizing that though a just ruler, she has been caught up in her own position of power—she is learning to see the world through the eyes of a commoner, and it's going to be very illuminating. Thematically, I didn't want to make Dejah seem insensitive or overly blind, but it's a fact of life—if you are accustomed to living in the upper level of society, you will certainly start to overlook many things. This is largely a story of Dejah learning about herself and the world around her.
PAGES 20-22
We see Carter unable to act against Valoris. Again, I don't mean to cast John as being weak or dumb, but this is something larger than him. I'd like to believe that part of him realizes he can't just fight his own guard, that he'll have to play this smart—he is plotting to take down Valoris, but he won't do it just yet. Thana then delivers John a message from Dejah and we see her leaving.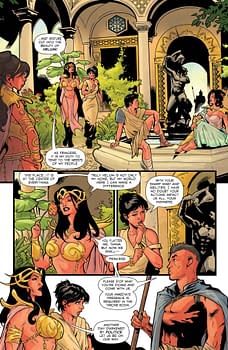 Again, Dejah perhaps IS acting a bit out of self-interest here and perhaps even selfishly, but her whole sense of identity has come apart. She MUST know who she is. She trusts her husband implicitly to take care of matters in Helium, but her personal quest is just beginning. She's cut the ties with her life in Helium and is beginning her own journey—I can't wait to show readers where it goes!
For more on Dejah Thoris #1, click here.
Reminder that there is a Dejah Thoris digital sale over at Comixology for the next couple hours.