Writer's Commentary – Ray Fawkes On The Sovereigns #5
Dynamite has sent us a new writer's commentary from Ray Fawkes as he talks about The Sovereigns #5. We've also got a batch of covers from Stephen Segovia, Johnny Desjardins, Fred Hembeck, and Kenan Yarar, Interiors by Desjardins.
This is it! All your questions will be answered, all the mysteries revealed! What has obliterated humanity? What the hell happened to the moon? What is the true nature of the Lost Valley? Why do the heroes you know and love – Turok, Magnus and Doctor Spektor – seem like completely different people? And perhaps most importantly, how will the world be saved, and at what cost?
Page 1:
Something I've always loved about Magnus and Samson both: they just never give up. It was crucial to me that this was a pivotal feature of our story, and you see it underlined here, and again on page 4 with Samson. Pages 2-3:
The evolution of the world from 2025 until Samson's time is something I came up with very early in the process of writing this story, so it was a blast to finally see it on paper, months later.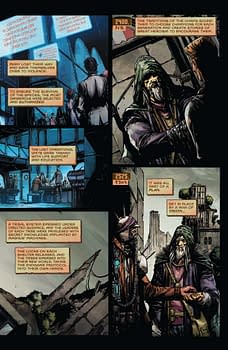 Page 4:
And now we know that Samson's heroic philosophy may actually be a direct result of Magnus' teachings. I love it when a plan comes together. Pages 5-7:
Johnny just killing it as I ask him to merge timelines, overlap realities, etc. I mean seriously.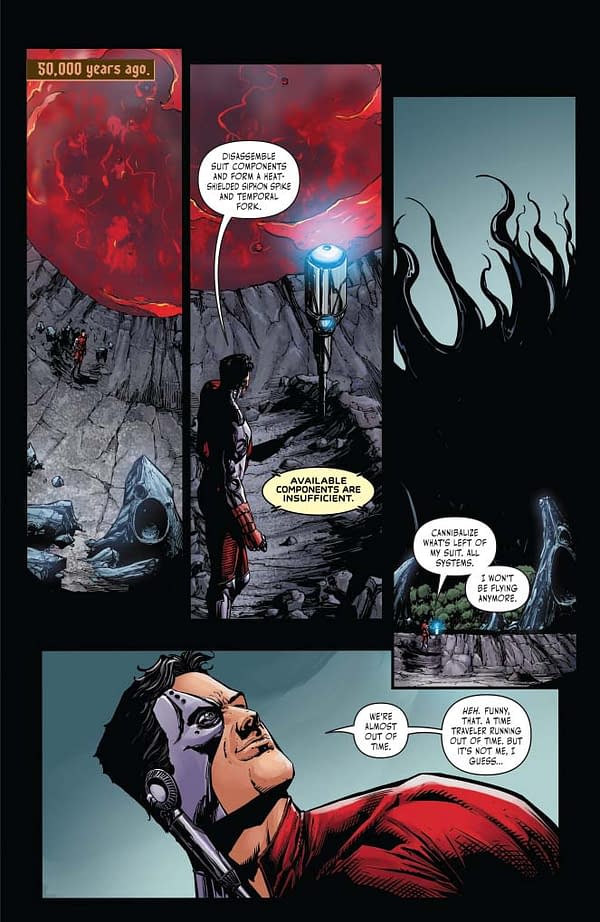 Page 8:
Magnus and Samson, finally face to face, bridging the centuries to work together.
Page 9:
And then my script says that we need to see a fractal that represents all of space time as we know it. Yeah. Never let anybody say that The Sovereigns wasn't ambitious, hah!
Page 10-14:
The final stage of the plan does involve getting blown up, yes.
Page 15:
And yeah, Magnus and Samson (and Turok and Solar and Spektor, in their own ways) all actually saved the world. They saved us all! But at WHAT COST, etc.
Pages 16-18:
Oh. The cost: Samson's sanity. And the previous versions of our heroes are gone forever, erased as if they never existed. All their friends and family, all their great deeds… sacrificed.
Page 19:
But! From the ashes, etc! I love that we get to see Johnny's version of the introductions to all the new versions of the Sovereigns that we saw way back in issue 0.
Page 20:
So we saw Spektor, Magnus and Turok recreated in the new reality. But what about Solar? HMM. HMMMMMMMM.
Thanks for joining us for this story. It was a blast to put together, and a thrill to see the great reactions from readers!