Writer's Commentary – Zack Kaplan Talks Eclipse #1
When I recently interviewed Zack Kaplan about his Top Cow series Eclipse, there were things he couldn't say because of the mystery involved. Now that the book is on the shelves (check your local retailer for a copy), Zack is back with a writer's commentary for those who have already read it.
Commentary Track for Eclipse #1
I remember when Top Cow President Matt Hawkins of Top Cow responded to my ECLIPSE pitch and said he wanted to do it. I was over the moon — or over the sun (couldn't resist) — at the fact this story would come to life and be something tangible that readers could actually hold in their hands. I've been excited since day one, and it's become more than a passion project.
It's very surreal to have ECLIPSE finally available to readers. I've always loved science fiction that both entertains and makes us think about our place in the world. ECLIPSE was inspired by the idea that our sun might turn against humanity and transform from a life-giving entity to a deadly monster. I can only hope that readers enjoy the story and walk away thinking about the preciousness of our environment.
On the #1 Cover and communication… The Issue #1 cover portrays our post-apocalyptic world. It's a world where the only way to not be burned by the deadly sun is to wear a cumbersome astronaut-style space suit. There was so much we wanted to communicate in the cover: the world, genre, tone and story elements. Giovanni Timpano, the brilliant artist of ECLIPSE, captured the horror of this world with this burnt hand in the foreground. And then there is our hero in his John Cassady-style pose, frozen in the face of this new landscape.
On Giovanni and patience…
Readers may not realize, but when ECLIPSE began, Giovanni was not available. He was working on THE SHADOW. I was told I could wait five months for Giovanni or go with another artist. Giovanni's portfolio displayed his ability to capture a film noir atmosphere, to dance between light and dark and to explore detail like few artists can. It wasn't a hard decision to patiently wait the five months for him.
On Page One and world-building… At first glance, it seems like an ordinary night in Times Square, crowded with people, billboards overhead. But it's not normal, and in these large panels, Gio impresses with a Moebius level of detail that conveys the true uniqueness of this world. And we spent exhaustive amounts of time discussing every aspect of the world, from the AC systems, to the billboard ads, to the fashion styles, to the police uniforms, to the lack of vehicles, to the underground entry ways, and much, much more.
On Page Five and collaboration… Originally, in my first draft of this issue, I explored a moment where we see Bax hallucinating out in the sunlight. Giovanni actually steered me away from it, and we found a much stronger moment for Bax's isolation, as he just stares up at the sun. It goes to show the importance of collaboration, and how invested Giovanni was in the story.
On Page Six and the horrors of research….
This is our first glimpse of a burnt body in ECLIPSE, and it required a lot of conversation about how exactly the sun burns people. Poor Giovanni had to study burned flesh a great deal in order to capture the authenticity of this moment.
On Page Eight and shared vision…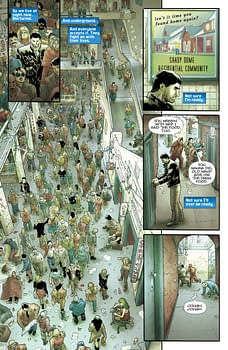 We see Bax returning home as just a face in the crowd, experiencing yet more isolation. I wanted to see this seedy underground world, but Giovanni took the environment and ran with it. The level of detail he employed captures all of these little stories of the different people. Working with Giovanni certainly taught me to back off and let an artist share in the vision, and that's really the only way to get such a great scene as this.
On Page Twelve and creativity within the panels… In the script, Panel Four is simply described as a moment Nick puts his hand on Bax's shoulder, but Giovanni read that this scene is about Bax being pulled between his desire to remain isolated and his need to be a protector. I love that Bax is literally put between panels, representing just how torn he is. It shows how the use of panels can lead to great storytelling.
On Page Seventeen and pacing…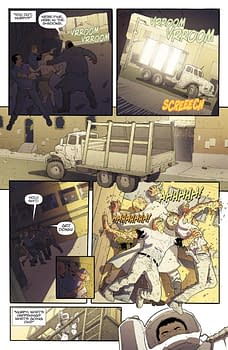 We see a lot on this page, from Cielo hiding under the burnt bodies to Bax rescuing her. I think one of the things I learned most from writing Issue #1 was how to think about pacing in a comic book. There's a limited space, and some pages like this were very tricky. I think understanding how to use space in comics is one of those "a minute to learn, a lifetime to master" kind of concepts.
On Pages Eighteen & Nineteen and close ups… Both of these pages feature large close-ups of our main characters, Bax and Cielo, and those large panel close-ups weren't in the script. That was Giovanni's idea to use these final pages to give each character their own moment, and it works so well. It truly makes me realize the importance of making room in comics for characters to just exist in large format and allow readers the chance to connect to them.
On Page Twenty and our villain… We've been staying hush-hush about our antagonist, but here he is in our Issue #1 cliffhanger, clearly withstanding the sun's deadly rays. Of course, he's still pretty shroud in mystery, and that's the way we wanted it, so sorry to disappoint, but if you want to know more about this guy, you have to read Issue #2.
On Eclipse #2 and a jam-packed story… If you were intrigued enough to read ECLIPSE #1, I can ensure you that Issue #2 delivers more action, more of our villain, more answers to the mysteries of this world, more Cielo and of course, more about Bax and his past. In fact, Issue #2 opens with a flashback that reveals just what Bax went through during the solar cataclysm. Bax even comes face to face with the killer in Issue #2, so it's jam-packed with story!
ECLIPSE #2 is on sale Oct. 5, 2016 from Image Comics/Top Cow. You can pre-order now with code AUG160623.