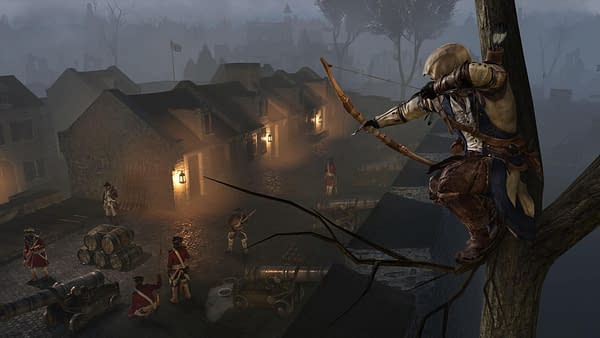 Announced during the most recent Nintendo Direct, Ubisoft will be bringing the Assassin's Creed III remaster to the Switch console alongside release on PC, PS4, and Xbox One. This announcement makes AC3 the first game in the series to be ported to Nintendo's hybrid console.
Releasing on May 21, 2019, Assassin's Creed III Remastered will put Switch players back in control of Connor and Aveline as they fight for freedom during key moments in American history. The remastered edition of the game includes the base Assassin's Creed III game along with The Tyranny of King Washington, and Assassin's Creed Liberation.
The Switch version of the remaster will take full advantage of the system's capabilities, meaning you can use the touch screen interface, motion controls for aiming, and have both an optimized HUD and HD rumble.
Alongside remastered graphics, gameplay mechanics and ergonomics have been improved for an optimal experience.
Starting today, you can pre-order Assassin's Creed III Remastered for $39.99 USD. Do not that the Switch edition does not appear to be part of the Assassin's Creed Odyssey Season Pass deal. The PS4, Xbox One, and PC version of the game will launch a bit earlier, as it's coming next month.
You can check out the Switch-specific trailer for the game below.
Enjoyed this article? Share it!