Battlefield V Drops a New Trailer for the Firestorm Battle Royale Mode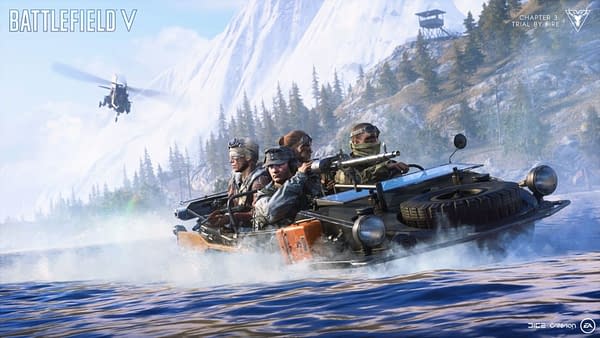 EA and DICE have dropped the first official gameplay trailer for Battlefield V's upcoming battle royale mode today. Called "Firestorm" the battle royale mode looks pretty similar to the other multiplayer modes available in Battlefield V, but with that signature "free-for-all" twist, though the storm in Battlefield is made out of a ring of fire rather than an electrical storm.
Unlike other battle royale modes, Firestorm is a 64-player fight for survival across air, land and sea. So all vehicles are usable in the battle royale mode, which can make things incredibly vicious. Unless you decide to drive the tractor, in which case, Firestorm is just a more brutal Farming Simulator.
EA and DICE also released the recommended competitive PC specs compiled by Nvidia, to ensure a PC setup that meets the high performance needs of Battlefield V's Firestorm mode:
OS: 64-bit Windows 10 or later
Processor (AMD): AMD Ryzen 7 2700 or equivalent
Processor (Intel): Intel Core i7 8700 or equivalent
Memory: 16GB RAM
Graphics card (NVIDIA): NVIDIA GeForce® RTX 2070
Online Connection Requirements: 512 KBPS or faster Internet connection
Available Disk Space: 50GB
Battlefield V's Firestorm mode will launch on Monday, March 25th, 2019. You can pick up Battlefield V now for Xbox One, PS4, and PC through Origin.
The Firestorm gameplay reveal is below.