Baseball Card Box Break: 2018 Topps Gypsy Queen
2018 Topps Gypsy Queen baseball cards recently hit stores, and with Shohei Ohtani Mania in full swing, the baseball product has been in high demand this year. I managed to get my hands on this popular set, so let's take a look at what is inside!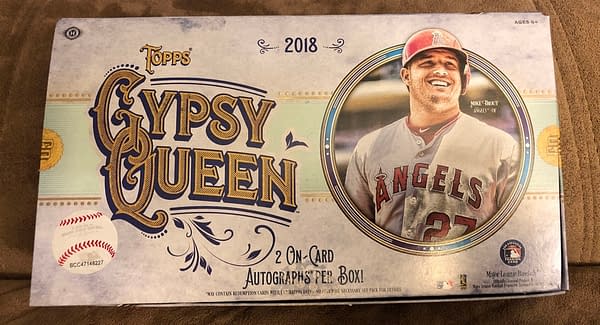 2018 Topps Gypsy Queen Hobby Box Breakdown
Eight cards per pack, 24 packs per box
Our box went down as follows:
Base: 176/300 cards (58% completion)
1 Short Print (Nolan Ryan)
4 Fortune Teller inserts (Manny Machado, Carlos Correa, Corey Seager, Noah Syndergaard)
2 Logo Swap (Daniel Murphy, Whit Merrifield)
1 Missing Team (Nick Castellanos)
1 Black and White parallel (Patrick Corbin #'d to 50)
4 Indigo parallels (Zack Cozart, Lance McCullers Jr., Rafael Devers, Aroldis Chapman Tarot #'d to 250)
4 Tarot Card inserts (Mike Trout, Rafael Devers, Aroldis Chapman, Yasiel Puig)
1 Glassworks Box Topper (Noah Syndergaard)
2 Autos (Lucas Giolito and Rhys Hoskins Indigo #'d to 250 redemption)
Overall I was quite happy with the box. The Hoskins is a nice auto hit, and the redemption was already live, so now I just have to wait on the mail. Good insert hits, I got the Short Print card I wanted most with the Ryan card. And of course I was thrilled to pull the Ohtani card. Gypsy Queen is one of my favorite sets every year, I love the old feel with the thicker card stock and the faded borders. They also always have really sharp images on the cards. Just all-around cool. The variations are fun as well. The missing team name is alright, I love the Logo Swap from the "GQ" to the woman's face. The only one I didn't get is the Bazooka Gum Back, I would like a few of those. Most importantly- no doubles! Not a single one.
I buy this product every year, and with some great rookies and of course Ohtani, collectors are gobbling this stuff up. You can get a box for yourself at your local hobby shop, or at a mark-up online from various places.