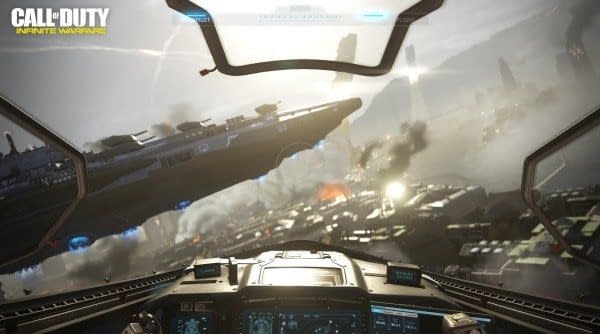 Call of Duty: Infinite Warfare's latest DLC pack, Absolution gives you a few new maps as well as a new zombie mode. You can play through a massive mini-golf park in Fore, the frozen inner city of Permafrost, an oceanic shanty town in Bermuda and Call of Duty: Modern Warfare 3's fan-favourite Resistance map which has been re-imagined and re-named as Ember.
Meanwhile, Infinite Warfare Zombies goes back in time to the 1950s with Attack of the Radioactive Thing! "Lead by Elvira, the Mistress of the Dark herself, our ever-revolving cast of survivors must save a small '50s beach town from a government science experiment gone horribly wrong."
This is Infinity Ward's first attempt at a Call of Duty zombies mode, so it doesn't look quite like what we're familiar with. Sadly, I don't think even the return of the fan-favorite zombie mode and a Modern Warfare 3 map will do a particularly good job to sell this DLC. With Call of Duty: WWII on the horizon, most players just want to put Infinite Warfare behind them. And it doesn't help that the trailer is a day late. The Absolution DLC hit the PSN yesterday.
That said, you can check out the new maps and the new zombie mode in the trailer below.
Enjoyed this article? Share it!