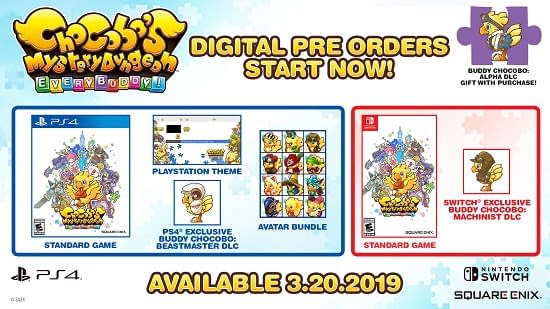 Square Enix announced that, next month, Chocobo's Mystery Dungeon Every Buddy! will launch on both the Nintendo Switch and PlayStation 4. Chocobo's Mystery Dungeon is a rework of 2007's Final Fantasy Fables: Chocobo's Dungeon with new unique dungeons, a new buddy system to recruit monsters and other characters as allies, and a local co-op system to play with your friends as you run through randomly generated dungeons as one of the Final Fantasy series' most recognizable characters.
If you want to get in on the birdtastic fun, you can pre-order the game digitally and get some nice pre-order bonuses. Players who pre-order the game through the Nintendo e-Shop will receive buddy chocobo "Alpha" and the Switch exclusive buddy chocobo "Machinist" DLC to assist players in dungeons at launch.
Players who pre-order the game on the PlayStation Store will recieve buddy chocobo "Alpha," the PS4 exclusive buddy chocobo "Beastmaster" DLC, a PlayStation 4 theme, and a PlayStation Network avatar bundle.
The chocobo Alpha is, arguably, the best character from Final Fantasy XIV: Stormblood, as he's an artificial chocobo come to life through the power of sheer cuteness. And you just have to respect that kind of thing.
Chocobo's Mystery Dungeon will launch on March 20, 2019. You can check out the reworked version of the game in the brand new trailer below.
Enjoyed this article? Share it!