Com2Us Shares Developer Interview for Skylanders Ring of Heroes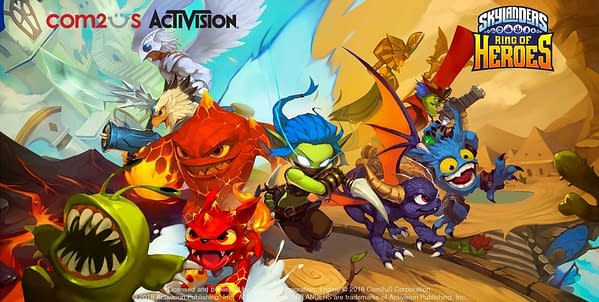 Com2uS USA and Activision released a new developer interview for Skylanders Ring of Heroes. The interview covers a ton of ground, including information on the game's exclusive features, the creation of awakened Skylanders, and key development insights.
For fans of the series, the interview provides some fascinating background, while also presenting Ring of Heroes as a good jumping off point for new players.
Production Project Manager, May Cho, comments, "We know that previous Skylanders games were really popular with fans. We wanted to bring that same fun and excitement felt from the video games onto mobile."
Com2uS USA's Assistant Producer, Angel Ortiz explained, "My ultimate goal and inspiration is to help release an awesome game that not only appeases to the hardcode Skylanders fans, but also bring Skylanders to fresh new eyes (…)"
Skylanders Ring of Heroes is a mobile RPG created in collaboration between Activision and Com2uS. The game features an original story with over 80 different Skylanders. Players are empowered to take advantage of character elements and skill combinations to gain strategic advantages in the riveting turn-based battles.
Its the first major mobile version of the Skylanders franchise. The game hasn't launched yet, but you can pre-register here.
You can check out the interview below.