Dead By Daylight Comes To Epic Games Store With A New Chapter
Behaviour Interactive has launched their latest chapter for Dead By Daylight as the game also launches everything onto the Epic Games Store. The latest DLC chapter is called Portrait Of A Murder and brings with it a new Killer in Carmina Mora, a new Survivor with Jonah Vasquez (wh is a brilliant Mexican American CIA codebreaker), and a new map, the Forsaken Boneyard, which is an abandoned Chilean graveyard. As far as the game's content goes, everything that's been released up until this point will be added to the EGS on Thursday, December 2nd at 11am EST.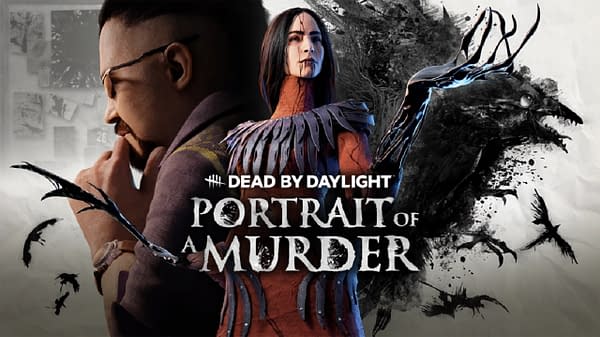 Beware of the Torment Coming from Above

As players know, crows have been a long-time staple in the Entity's Realm. The Artist brings her own murder to the Fog in both her story and her gameplay. With her Killer power, Birds of Torment, she can summon Dire Crows and unleash them on a devastating assault, bringing dynamic new gameplay possibilities to the action-packed world of Dead by Daylight. Players charging the Birds of Torment send a crow into a flightpath visible to the Killer, targeting and inflicting damage to Survivors for a short duration. After continuing beyond the established flightpath, Dire Crows will swarm Survivors, revealing their aura until the swarm is repelled. Swarmed Survivor hit by a second bird will take damage.

"Birds have borne a very powerful sense of fear and fascination throughout the history of horror, so The Artist is for us a love letter to the genre. Portrait of a Murder very effectively spurs in Survivors' minds the distress of being prey to a flock of crows that could peck their flesh away at any instant," explains Dave Richard, Creative Director of Dead by Daylight. "And to add density to this feeling of uneasiness, we convey fans to the weirdest and most nightmarish map we've created so far. I truly couldn't have hoped for a more perfect mix for our players."

Winter Has Come to the Entity's Realm

As winter approaches, a biting frost hails from a Lost Realm, cold beyond the point of simple pain. These piercing winds announce the arrival of a new glacial collection: The Everlasting Frost Collection, bringing three Very Rare Outfits for The Artist, The Spirit and Ghost Face. The Wintry Reverie Very Rare Outfit for The Artist is composed of a frozen mask, a frostbitten gown as well as a snow-kissed blade. When equipped with this outfit, The Artist sports a prickly mask of piercing ice, while her flesh becomes impaled by sharp clusters of ice and her blade becomes covered with a thin film of ice. The Crystalline Apparition Very Rare Outfit for The Spirit features whitened and frozen disheveled hair, torn apart and exposed flesh as well as a blade covered with clusters of sharp ice. Finally, the Icebound Phantom Very Rare Outfit for Ghost Face features the face of death, pierced by clusters of razor-sharp ice, a dark shroud of death ripped apart by a multitude of ice shards as well as a tactical knife entrapped in a thick, pointy spike of ice. Each Very Rare Outfit is available now for 1,080 Auric Cells in the in-game store.