There is quite a bit new in the world of Dead by Daylight. The development team has laid out a comprehensive roadmap for when players can expect to see new expansions and balance changes, all thanks to Behavior Interactive buying the IP rights to DbD back from Starbreeze Studios. So naturally, they decided to hit PAX East by storm with their own Behavior Interactive booth and a teaser for the next killer coming to the game.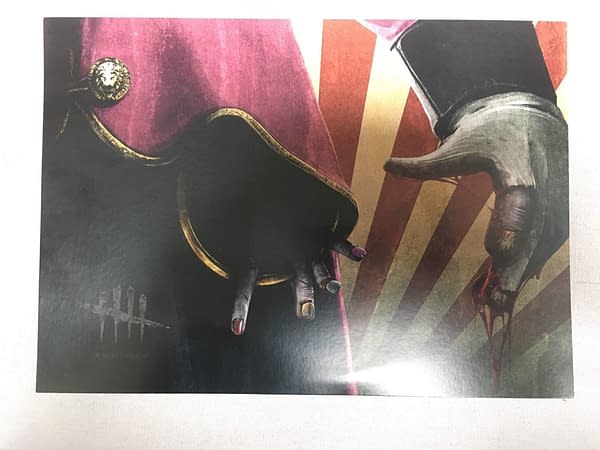 While Game Director Mathieu Cote was pretty closemouthed on details, he did hint that they'd gotten quite a few interesting interpretations for the teaser image above. The next few expansions for the game (including this next one) will be based on original ideas, as the Dead by Daylight team moves away from the licensed properties that have made up most of the game's content for the last year or so. Sure, we've gotten some great new killers and survivors out of the expansions — the Huntress is a personal favorite of mine — but the majority have been licensed characters like Leatherface, Freddy Krueger, as well as Saw's The Pig and David Tapp. Cote's commentary here echoes his plans from back at New York Comic Con in October, that original content is something the team is very, very interested in pursuing further.
He also mentioned that the team plans to keep making content for Dead by Daylight "as long as people keep playing it."
And now that you can unlock the new content expansions through gameplay instead of just via paywall, I can see people willing to put even more time into the asymmetrical horror game. Of course there will be "some things you can only unlock through gameplay and some you can only unlock by paying for it," but that will all be relegated to cosmetics. Dead by Daylight won't be getting pay-to-win content any time soon.
As for the new killer, well. We've got our own suspicions, but we're thinking it's likely Chapter 8's map will be some kind of circus or carnival given the red-and-yellow striped background. And yes, the teaser does show fingers popping out of a pocket in what looks like a ringmaster's costume. So, evil ringmaster seems more likely than evil clown for Chapter 8's killer, but we could be wrong. If you've got some ideas for what fantastical murderer is coming our way soon, feel free to put your best guesses in the comments.
Enjoyed this article? Share it!