Dealing With Aliens in Everyday Life With Desert Child at E3
One of the cool Indie Cade titles at E3 that caught our eye roaming through the area was this arcade setup for Desert Child by Akupara Games. This game is straight-up inspired by anime shows like Cowboy Bebop, Akira, and Redline, where you basically deliver pizzas and race your bike in a world with aliens and bounty hunting. I had a lot of fun trying out the speeder bikes for a moment as the race reminded me a lot of Battletoads from the NES days, only without the random wall to crash into.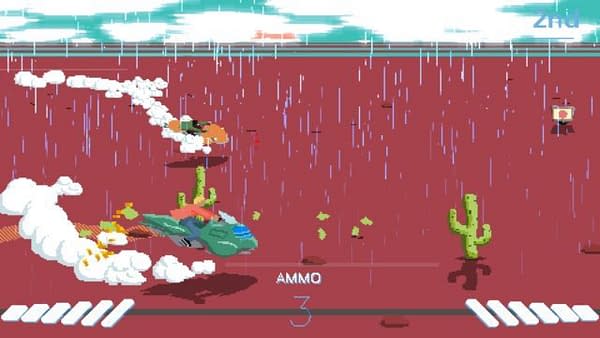 Desert Child was honestly a cool little treat to find as it's a retro title that doesn't take itself seriously and, if anything, feels like the kind of game someone who grew up wanting to make video games and anime cartoons would want to make. The only tedious part we saw was finding parts to make your bike better, so there's basically a crafting mechanic in terms of making a better racer so you can speed down the road faster. The game is set to be released sometime this year on PC, PS4, Nintendo Switch, and Xbox One. We'll keep our ears to the ground because this is one that can't get away.