Deus Ex: Mankind Divided – A Criminal Past DLC Now Available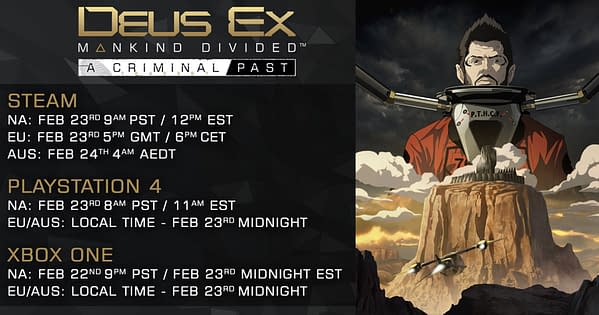 The second DLC story mission for Deus Ex: Mankind Divided is called A Criminal Past and is available today for those who just haven't had enough Jensen in their lives. A Criminal Past is designed to "provide players with more insight into the lore of the Deus Ex Universe" according to the press release. Mostly though it's just there to let you play through Jensen's first mission with TF29.
Jensen is required to go under cover in a high security prison for augmented felons to track down a fellow under-cover agent who has gone dark. Sounds perfect for those who prefer a stealthy Jensen as opposed to a more tank-y one, but I'm sure there will be more than enough ways to get through this DLC mission to satisfy most players.
A Criminal Past is avialable for $11.99 from Xbox Live, the PlayStation Network, and online stores – or you can get the Season Pass for $29.99 which includes A Criminal Past, the previous DLC System Rift, and a whole bunch of in-game items. If all you want are the narrative expansions, it's cheaper to buy them separately. Current season pass holders will now be able to download A Criminal Past and get started with their undercover prison mission.
For information about our first look at A Criminal Past and Deus Ex Breach mode here, and our review of the base game Mankind Divided here. Or if you, for some reason want Elon Musk's take on Deus Ex, you can find that here.