EA Will Hold the FIFA eWorld Cup in London This Year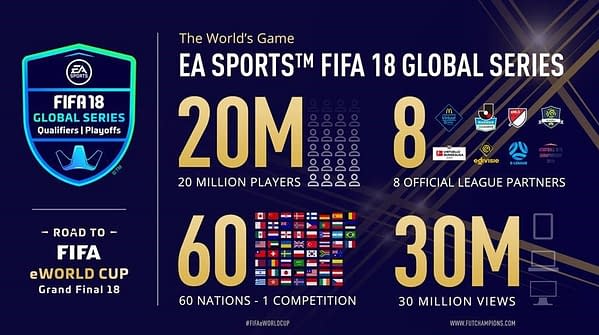 EA and the Fédération Internationale de Football Association (FIFA) have announced that the EA Sports FIFA 18 Global Series will culminate in the FIFA eWorld Cup Grand Final on August 2nd-4th, 2018. The eWorld Cup will be held in London this year.
The tournament will see the top 32 FIFA players go head to head for the honor of becoming World Champion for FIFA 18. Qualifiers will be held on May 28th-30th and June 1st-3rd in Amsterdam. The Amsterdam qualifiers will see 1128 of the best FIFA 18 players go head to head to determine the 32 players who will advance to the Finals. The 128 players are split by console, so there are 64 on PS4 and 64 on Xbox One, meaning the eWorld Cup will be made up of 16 players from each console.
"The FIFA eWorld Cup Grand Final 2018 will be a signature moment for competitive FIFA after a season-long journey that has engaged millions of players and spectators," said Todd Sitrin, SVP and GM of EA Competitive Gaming. "In partnership with FIFA, we accelerated the growth of competitive gaming through the EA Sports FIFA 18 Global Series, rallying the global football community together within this singular ecosystem."
"This partnership with EA elevated competitive FIFA into a worldwide phenomenon, combining the power of football with the spectacle of entertainment in astounding ways," said Philippe Le Floc'h, Chief Commercial Officer at FIFA. "A landmark year for global football and a landmark year for competitive gaming ends fittingly at the FIFA eWorld Cup 2018 in one of the most historic football cities in the world – London."
"We make it our top priority to ensure competitive gaming is accessible to players of all levels, and also elevate the best players into the true global superstars they deserve to be," said Brent Koning, FIFA Competitive Gaming Commissioner. "We accomplished this as more than 20 million players competed in this fun-filled, massive FIFA ecosystem. We've also seen the rising stars of competitive FIFA become recognized faces on the global scene."