Echo Combat Brings VR Shooter Combat to Zero Gravity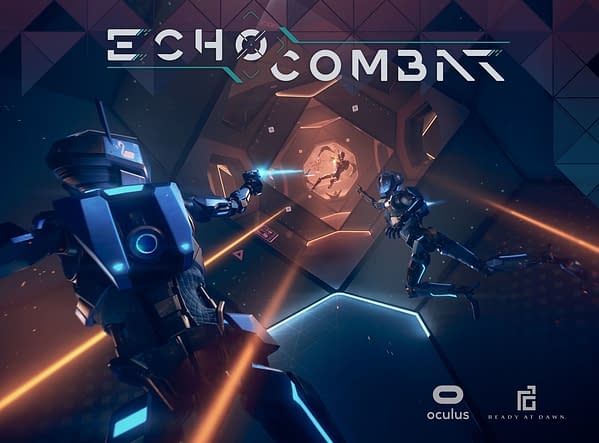 Ready At Dawn's Echo Combat is a team-based competitive zero-g first-person shooter that functions as an expansion to the Echo VR franchise. You might know Ready At Dawn as the creators of Echo Arena and Lone Echo, but this time around, they've changed the game with some fun strategic PvP. You get to play as a futuristic military robot in a first-person competitive space combat shooter, and all of it is in VR.
Perhaps the trickiest thing to get used to with Echo Combat is the movement. While we did have quite a bit of time during the half hour demo to get used to moving around in the game, the controls took me a bit of getting used to. While the ability to cling to objects and climb on them becomes pretty darn intuitive, the forward motion controls were a bit trickier, since you needed to actually put your hands in the direction you wanted to go.
Call me old fashioned, but I'm used to either walking, teleporting, or moving where I'm looking when it comes to games, even in the VR space. So having to hold my hands out and turning them both like I was riding a bike without handlebars was a bit strange and almost off-putting. Once I got the hang of it, though, movement became much, much easier.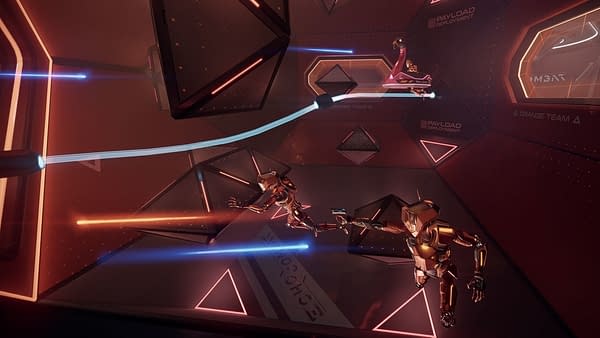 From there, it was pretty obvious how the game worked. One team of three was on defense, while the other group of three was on offense. The offensive team would be charged with moving a bomb to a target location deep into enemy territory. The bomb, in actuality, looks like a pool flamingo. In order to move it, one player from the offensive team needed to be touching it at all times. The pool flamingo float would then move slowly along a track and the other five players got to enjoy some good-old FPS PvP action.
You know, by trying to murder each other.
Players have a grenade over their shoulder, an offensive weapon in their right hand, and a defensive weapon on their left, which could be swapped out for the ability to heal each other.
Ultimately, the game is fun, and new enough to keep you entertained for hours — even if you do spend the first few minutes having no idea how to move around inside the game. Which, really, is the first few minutes of most VR games. You just have to accept that you'll look like a fool and then everything is fine.
Echo Combat will host an Open Beta on June 21st, 2018 for the Oculus Rift + Touch. The beta is free to play, while the game will retail for $9.99 USD.