"Final Fantasy VII Remake" Will Include a Classic Mode: TGS2019
Announced at Tokyo Game Show this week, Square Enix's Final Fantasy VII Remake will include a classic mode for fans who want a more pure, retro experience. The news was delivered by Producer Yoshinori Kitase and has been detailed in a blog post for the worldwide audience. The post also details the Squats mini-game, Aerith's combat style, and the summoning feature.
In short, Classic Mode turns the game into a classic menu-based JRPG where the player focused on selecting commands for each character. This mode is designed to cater to fans of the original Final Fantasy turn-based battle system.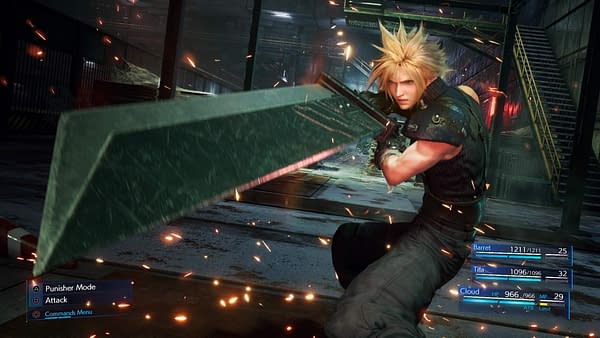 As the blog post specifies:
The original FINAL FANTASY VII used the classic Active Time Battle (ATB) system. In that game, you would wait until an ATB gauge fills up, then initiate a command. Classic Mode recreates this style of gameplay for FINAL FANTASY VII REMAKE.

It's a different way to play to FINAL FANTASY VII REMAKE's standard combat modes – which see you attacking, dodging and blocking in real-time to charge up the ATB bar and initiate a special action.

In Classic Mode, characters fight automatically, so the player can instead focus on selecting commands. It essentially turns the game into a classic menu-based RPG!
While we can absolutely appreciate the ability to play through the remake with either a classic ATB system or with an action combat system, the decision to include both seems a bit counter-productive. The hybrid action system in the Final Fantasy VII Remake demo shown at E3, Gamescom, and PAX West was flexible enough that players could choose to work in a more classic, order-driven manner, or in a more modern action-driven manner on the fly. And, based on the E3 conference put on by Square Enix, that seemed to be an intentional way to bridge both sides of the combat system fanbase. So making a Classic Mode feels redundant. It also reeks of fanservice. Which is not inherently a bad thing, but this may have gone a bit far. After all, the Final Fantasy VII Remake was not a pure action combat game in the first place.
Then again, I'm also the one who preferred the turn-based 2D mode in the Dragon Quest XI S demo. However, that includes a full art change in addition to the retro combat. So it's almost a completely new game.
More information on the new announcements can be found here. Part one of the Final Fantasy VII Remake will release on March 3, 2020.
You can check out the game's latest trailer below.