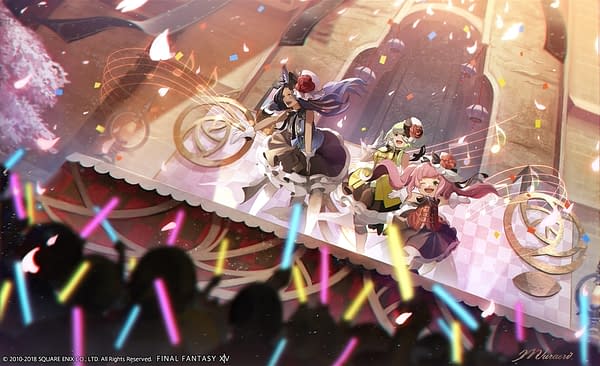 Square Enix has revealed the dates and details of this year's installment of the traditional Little Ladies' Day seasonal event in Final Fantasy XIV.
The event will bring back the "Songbirds" idol group that animated the previous events, so it's likely there will be plenty of zany shenanigans coming to the event this year. The event will run from March 1st to March 14th, and the quest "A Colorful Affair" will start in Ul'Dah, as always.
This year's the prizes will include a Far Eastern Doll Display furniture piece, a Siren Song orchestrion roll, and three emotes using light sticks so you can pretend you really are at a Japanese pop concert. Just add a vocalloid and it all makes perfect sense, even though the light sticks are somewhat anachronistic for FFXIV.
Eiter that, or you can stand outside your FC house to wave in your company airship like a proper air traffic controller.
In case you missed the reference, the Little Ladies' Day event is inspired by the Japanese holiday Hinamatsuri, which is traditionally a celebration held on March 3rd to pray for the health and happiness of young girls.
In related news, Final Fantasy XIV recently received a major update with version 4.2 going live at the end of January. The update brought a ton of balance changes, new content, more housing, and new items to the game. Some of those balance changes may have gone a bit too far, however.
You can check out the seasonal event prizes in the gallery below.
Enjoyed this article? Share it!