Fortnite Sees Son Gohan & Piccolo Arrive In Dragon Ball Crossover
Son Gohan and Piccolo join Fortnite today as the latest crossover event with Dragon Ball brings both characters and new items to the game.
---
Epic Games has a couple of new figures arrive today as Son Gohan and Piccolo from Dragon Ball join Fortnite in the latest crossover. Joining the game as part of the v23.30 update, both characters are here as a bit of a promotion for the Dragon Ball Super: SUPER HERO movie, making their debut in the game while also bringing with them some new items and events. First, the Kamehameha attack item and Nimbus Cloud (Kintoun) mobility item have been brought back from the vault, as well as Dragon Ball Adventure Island. All of these will remain in Battle Royale/Zero Build until v23.40, so you have a limited time to snag them for yourselves. The event will also come with new things to do and new items to snag, as there are all new quests and rewards added to the mix. We have more info below on the latest crossover, and you can read detailed notes in the team's latest blog.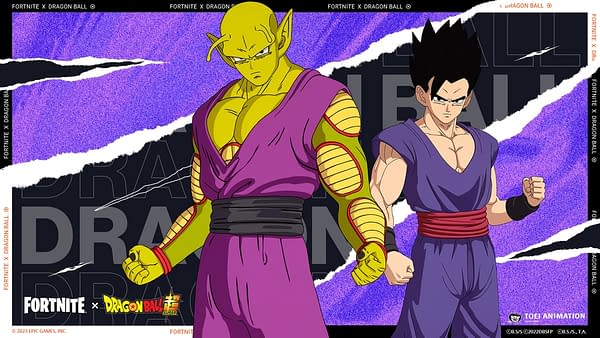 DRAGON BALL ADVENTURE ISLAND
Made by creator team Vysena Studios, the Dragon Ball Adventure Island features iconic locations from the show to explore as well as the open PvP battle arena. Dragon Ball Adventure Island can be accessed from either the Discover screen or island code 5642-8525-5429.
NEW FORTNITE QUESTS & REWARDS
Starting January 31 at 9 AM ET, complete a Dragon Ball-themed Weekly Quest on this island to unlock the Orange Piccolo Spray. Starting February 7 at 9 AM ET, complete another Dragon Ball-themed Weekly Quest to unlock the Gohan Beast Spray!
ITEM SHOP UNLEASHED
While wielding great powers on the Battle Royale Island or collecting Dragon Balls in Dragon Ball Adventure Island, venture as Dragon Team members Son Gohan or Piccolo. These new Outfits — and their matching accessories — are available in the Item Shop starting now!