Harry Potter: Wizards Unite Announces A Weasley Predicament Part 2
Niantic has announced the details of the next Brilliant Event coming to Harry Potter: Wizards Unite in just a couple of days. A Weasley Predicament Part 2 continues the storyline that kicked off in the game at the end of March 2021's The New Mauraders Brilliant Event, which ended with the disappearance of Ron Weasley. In the first part of A Weasley Predicament, Harry and Hermione have been unable to find leads on Ron's whereabouts. Now, with the second surge of this Weasley-centric Brilliant Event coming to Harry Potter: Wizards Unite, let's see if we can glean any hints from the announcement.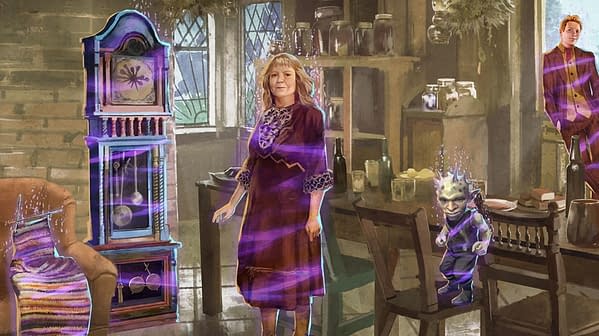 Niantic posted the following on the official Harry Potter: Wizards Unite forum:
Help return Brilliant Foundables from the Brilliant Burrow Kitchen during Part 2 of the The A Weasley Predicament Brilliant Event, starting Monday, April 19 at 11 a.m. PT.

The Brilliant Foundables featured during this event can be found in the following locations:

Part 2

Molly Weasley – Wizarding Challenges

Self-Knitting Jumper – Tasks

Gnome – Brilliant Portkey

Brilliant Weasley Clock – Encounter

Brilliant Proprietor Fred Weasley – Encounter

The Portkeys for this event will be 1.5km. As a reminder, Part 1 Portkeys will give you Part 1 rewards anytime you open them, even if you wait to open them during Part 2. Keep an eye out for Bonus Assignments that will be available in game after the main tasks have been completed!
All right, no hints, but we can assume that the dialogue that comes with the Fred Weasley narration might get emotional.
Harry Potter: Wizards Unite has been quite a ride of late, picking up with the story of J. K. Rowling's iconic fantasy novels years after the defeat of Voldemort. While Niantic, of course, doesn't have the freedom to… you know, hit Ron with an Avada Kedavra, they've certainly done a great job of keeping the stakes high. Let's hope for the safe return of Ron Weasley at the end of the event!