Hitman 2 Takes You To Columbia in the Latest Hammer-Throwing Trailer
Warner Bros. Interactive Entertainment and IO Interactive released a new Hitman 2 trailer today with a little more green than you're used to. This time around you're being introduced to Columbia where you'll be hitting up a small village to take out three cartel leaders who happen to be at the same location at the same time. As always, you have a plethora of options at your disposal on how to dispatch people, including throwing a hammer while being shot at, which looks pretty awesome, and maybe death by hippo! Enjoy the official description and trailer.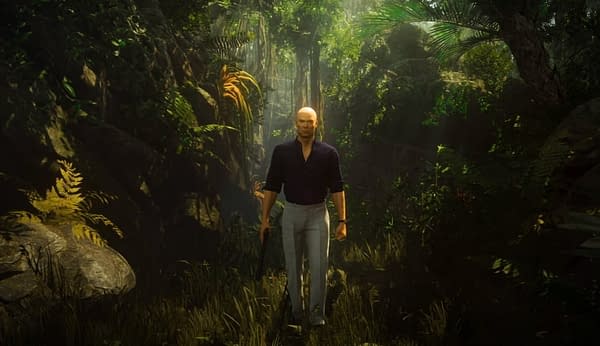 Located in the heart of a Colombian rainforest, the remote village of Santa Fortuna welcomes tourists to enjoy its relaxed atmosphere – but it also hides an intricate set of caves and ruins near the Delgado Cartel's extravagant mansion and coca fields. Santa Fortuna is the perfect location to showcase new features and abilities coming to Hitman 2, including the use of vegetation and foliage to stay out of sight or hide weapons and bodies. This new trailer displays the truly exotic, hyper-detailed setting that will be available for players to explore, with unexpected hazards and unique kill opportunities all around. Agent 47 must use creativity and intelligence to survey the entire village and avoid the Cartel's iron-fisted rule to eliminate his targets.