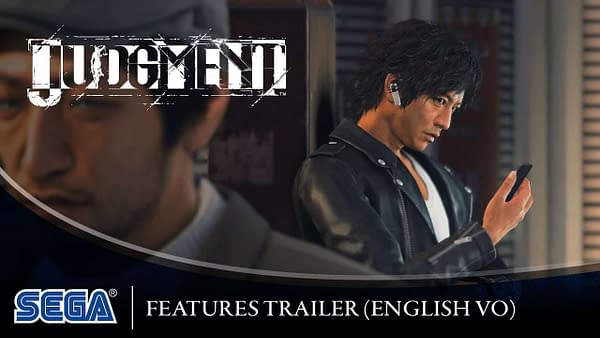 SEGA will be bringing Ryu ga Gotoku Studios' Judgment (known in Japan as Judge Eyes: Shinigami no Yuigon) to the West on June 25th, 2019 for PS4. The western release of the JRPG will come with dual audio tracks, so you can play with the original Japanese audio and subtitles, or with the English dubbed voiceover. Subtitles will be availabke in English, French, German, Italian, and Spanish.
The English voice cast stars Greg Chun as protagonist Takayuki Yagami. Chun is joined by veteran voice actors Crispin Freeman, Matthew Mercer, Cherami Leigh, Yuri Lowenthal, James Hong, Ed O'Ross, Amy Walker, Mad Yang King, Fred Tatasciore, and Brian McNamara. SungWon Cho, Cristina Vee, and Max Mittleman also make guest appearances on the dub cast.
The game will have both English audio and Japanese audio with English, French, German, Italian, and Spanish subtitles. The game will feature two different sets of subtitles, one that matches the English audio track and one translating the Japanese audio track.
Judgment is a "legal suspense work" game which launched in Japan, South Korea, and China on December 13, 2018. The Western release previously used the working title "Project Judge."
You can check out the English voice on YouTube or check out the Japanese VO trailer below.
Enjoyed this article? Share it!