Kingdom Hearts 3's Toy Story Map Includes an FPS Mode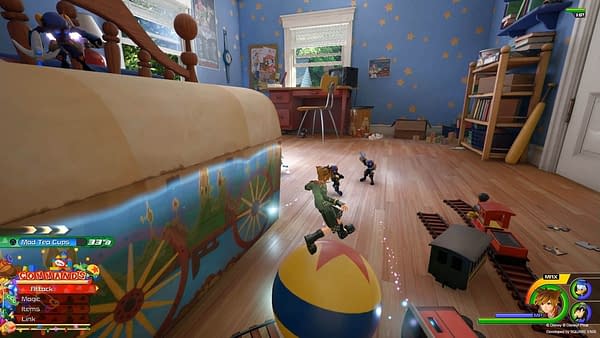 The E3 demo for Kingdom Hearts III was pretty much the exact same demo as the one shown during its reveal event in late May. However, since we weren't able to check out the game during its reveal, this was our first chance to get hands-on with the long-awaited sequel. And while the new keyblade abilities are kind of epic and add a whole new dimension to the gameplay, the absolute weirdest part of the demo had to be the FPS mini-game.
Honestly, I think that might be the reason for the game's delay into 2019. Because wow, is Square Enix's internal dev team not good at making shooters. It's like their development kryptonite. And yet, it works.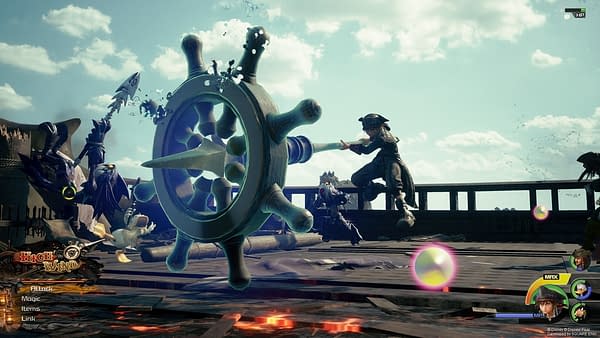 And as weird as the KH3 FPS mini-game was, it was actually fun.
Essentially, this works out with Sora jumping into the cockpit of a mech-style toy and going head to head with other mechs in an arena. While the HUD is not ideal (it was a bit arcadey and not what you'd expect from a modern shooter), the retro-feel and absolute disconnect between firing and your controls works pretty darn well. Because that's exactly what you'd expect from a mech battle arena mini-game in Kingdom Hearts. Of course it would be ever-so-slightly janky.
And this isn't the only mini-game available, which shouldn't surprise anyone. The original game had quite a few mini-games, including the infamous Blitzball. All of the subsequent games have continued that trend, and if the demo is anything to go by, they'll be pretty darn amusing.
So, essentially, we're still super psyched about Kingdom Hearts 3.