Netmarble has released a new update for Marvel Future Fight, which brings in a fresh new X-Men event with a few new character options. This time around you have the option of playing with Gambit, Nightcrawler, and a Sentinel. It looks a little ridiculous seeing a Sentinel fight alongside you at one-eighth their normal height, but hey, it's a mobile game. Here's a few more details about the event.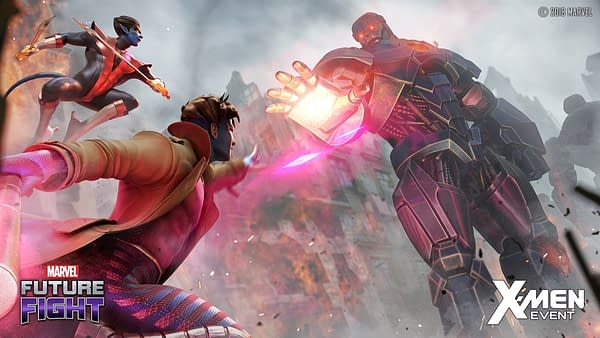 In addition to the highly anticipated X-Men characters joining MARVEL Future Fight, several new improvements are now live, including new costumes for existing characters (Angel, Emma Frost, X-23, and Magneto) and several characters (Magneto, Gambit, Nightcrawler, Sentinel, Angel, Emma Frost, X-23) now capable of realizing their potential.  Players can also look forward to an all-new real-time Giant Boss Raid against the giant Sentinel menace, Master Mold.

Additional updates to Marvel Future Fight include:

l  Character types can be upgraded to maximum type affinity with the new growth system.

l  Multiple defeated characters in the Conquest can be selected and revived at once

l  Auto Repeat can be turned on during a stage

l  Tier-3 Advancement animation can be viewed again

l  Sender of the alliance support will be displayed

l  World Boss Invasion Co-op Quest rebalanced
Enjoyed this article? Share it!