On a recent post on Xbox Wire, Microsoft's head of all thing Xbox, Phil Spencer, confirmed that Xbox Game Pass is being launched with an exclusive PC variant. The PC variant will function much like the console version, as it will be a monthly subscription service.
So far, the companies partnering with Xbox for the project include Bethesda, Deep Silver, Devolver Digital, Paradox Interactive, Sega, and Xbox Game Studios.
"As the creators of Windows, we have a unique responsibility to ensure we're investing in experiences that benefit players everywhere, while respecting the PC community's preference for an open, highly customizable platform," wrote Spencer. "We've not always lived up to our aspiration of keeping gamers at the center of everything we do when it comes to the experience they've had on Windows."
The new program will provide support for PC players by giving them access to games, discounts at the Xbox store, and support for Windows 32-bit in Windows 10.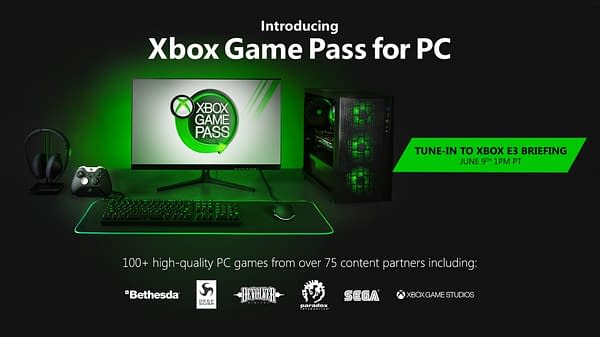 From Xbox Wire:
Two years ago, we launched Xbox Game Pass on Xbox One, and since then we've seen how valuable a curated library of high-quality games can be for players and game developers alike. It offers a great way to discover and play your next favorite game. We researched whether a similar opportunity exists for PC players and PC game developers, and we believe that it does. We also considered the importance of bringing something new and additive to the PC gaming ecosystem, and we believe that we can. So, we designed a service specifically for the needs of PC gamers and PC game developers. It's called Xbox Game Pass, just like the original, but it's a new experience that we are building together with the PC community.

Xbox Game Pass for PC will give players unlimited access to a curated library of over 100 high-quality PC games on Windows 10, from well-known PC game developers and publishers such as Bethesda, Deep Silver, Devolver Digital, Paradox Interactive, SEGA, and more. And just as we committed on the console, it is our intent to include new games from Xbox Game Studios in Xbox Game Pass for PC the same day as their global release, including titles from newly acquired studios like Obsidian and inXile. We're working with over 75 developers and publishers to bring PC content to the service and we'll ensure the library remains curated and full of great PC titles across a variety of genres, with new games added every month.

Xbox Game Pass for PC members will also receive discounts in the Microsoft Store on Windows of up to 20% on games currently in the library and up to 10% off related game DLC and add-ons.

We look forward to sharing more at E3, including the great games coming to the library, as well as more details on when and how you'll experience the new Xbox Game Pass service for PC gamers.
More information on the Xbox Game Pass for PC program will be divulged at the Xbox E3 Press Conference on June 9th at 1pm PDT.
Enjoyed this article? Share it!