Posted in: Board Games, Games, Hasbro, Tabletop | Tagged: anniversary, board games, hasbro, monopoly, Tabletop
---
Monopoly Grants Brands License for 85th Anniversary
Grab your cash and run, folks, for Hasbro is celebrating Monopoly's 85th anniversary!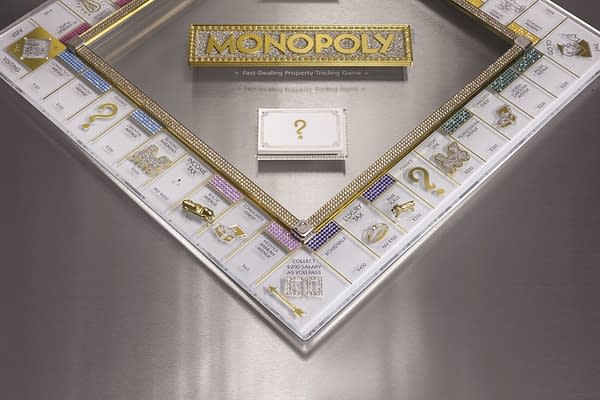 According to a recent press release from the big-name toy and gaming company, Hasbro has granted license rights to various different companies in order to allow them to create a glut of highly-collectible items, including apparel, shoes, toys, and even a Swarovski-covered version of the board game. Wow!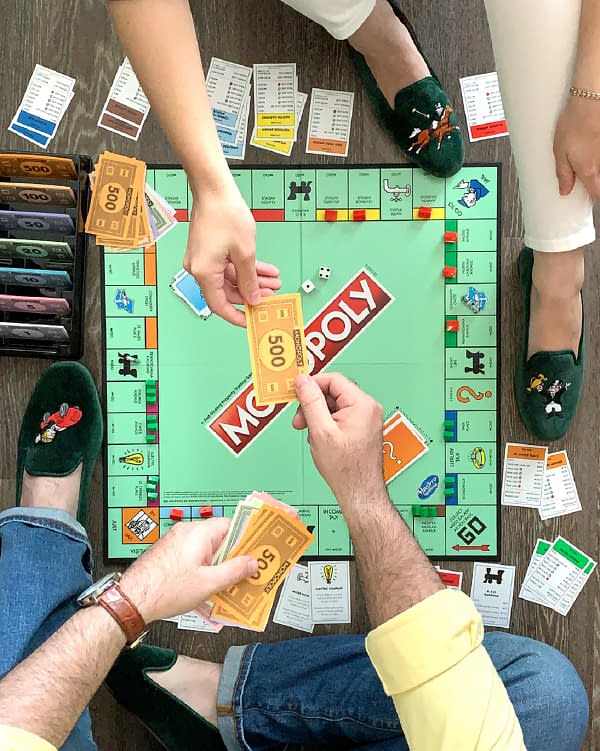 From the press release:
PAWTUCKET, RI – February 20, 2020

– Hasbro, Inc. (NASDAQ:HAS) is celebrating the 85th anniversary of MONOPOLY with a robust consumer products strategy to impress even Mr. Monopoly!

MONOPOLY is the world's favorite family game brand and is enjoyed by more than one billion players in 114 countries across the globe. The diverse set of licensees will offer consumers a range of limited-edition products that celebrate what the brand represents: family, fun and friendly competition. The initial wave of licensed products includes Swarovski crystal adorned game board, apparel and shoes for men, women and children, limited edition art, winter sports gear, and collectible toys. Additional licensees will be announced throughout the year.

"MONOPOLY has been helping millions of friends and families create memorable moments around the world for 85 years and we're thrilled that so many people are excited to celebrate this momentous occasion with us. Throughout the brand's evolution across a variety of platforms and formats, the gameplay and iconography of the classic MONOPOLY game has remained unchanged, making it a timeless classic sure to be enjoyed by future generations," said Casey Collins, GM & SVP of Entertainment and Licensing at Hasbro. "The support and collaboration of our licensees has been incredible and we are humbled by the creativity and enthusiasm they have expressed for this important milestone. The 85th anniversary program illustrates the true potential of an iconic brand like MONOPOLY, which can translate into a variety of categories. We're excited to be able to reach consumers in new, powerful ways with this amazing licensing program."

The celebration kicks off this February, with new items launching throughout 2020. MONOPOLY licensees include:

Fashion brand KULE will launch a Hasbro capsule collection for women, men and kids featuring MONOPOLY designs launching in time for holiday 2020. The line will be available in the US and Japan through www.KULE.com and at select luxury retailers.
Stubbs and Wootton will give their fashion forward handmade velvet smoking slippers a MONOPOLY treatment with six original designs set to launch on February 28, 2020. The evening slippers will be available at Stubbs & Wootton's showrooms in Palm Beach and New York, and online at www.stubbsandwootton.com.

Source: Hasbro, Inc.

TOMS, the Original One for One company, will launch a limited edition footwear capsule collection for women, men and kids. The collection will feature designs inspired by iconic game pieces and squares on the Monopoly board. For every pair sold, a new pair of shoes will be given to a person in need. TOMS x Monopoly will be available globally in October 2020 on TOMS.com and at select TOMS retail and retail partner locations.
Winning Solutions Inc. is creating the ultimate MONOPOLY 85th anniversary collector's edition featuring a beautiful gold and silver foil tempered glass game board adorned with over 2,000 genuine Swarovski© crystals. The limited-edition game also features premium game components, including a specially designed token to commemorate the anniversary. Pre-orders are available as of February 15, 2020 through www.wsgamecompany.com. Only 500 pcs available.

Source: Hasbro, Inc.

Source: Hasbro, Inc.

Italian luxury goods company Montegrappa will launch a line of finely crafted writing pens incorporating iconic MONOPOLY art designed for the discerning MONOPOLY fan. Launching in May 2020, the MONOPOLY fountain and ballpoint pens will be available at Montegrappa stockists worldwide.
Heavy-weight hobby manufacturer Round 2 is teaming up with Johnny Lightning die-cast and MPC model kits to create a new MONOPOLY 1:64 scale die-cast automotive series and a 1:25 scale plastic model kit. The collectibles will release in waves throughout 2020 starting this spring, and will be available across the US and Canada in Walmart, Meijer, Hobby Lobby, HEB and Hobby Markets. Unique collectible packaging commemorating the 85th anniversary will also include "MONOPOLY Fun Facts" about America's favorite board game.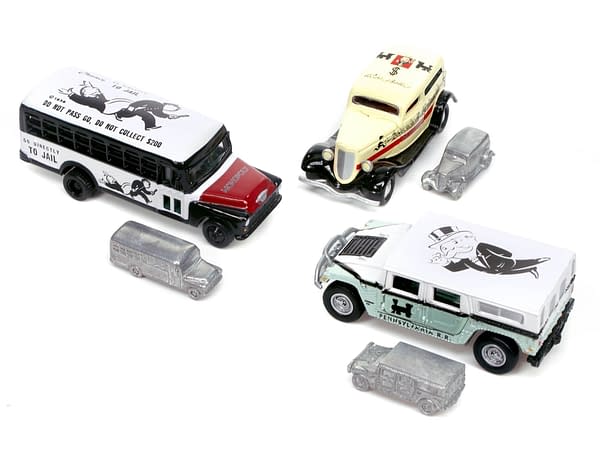 Wow, that's a lot of information to take in all at once! What do you think of these brand deals? Are you impressed? Do you play Monopoly enough to want to rock those shoes, or that Swarovski game board? Does that even matter? Let us know your thoughts on this matter!
---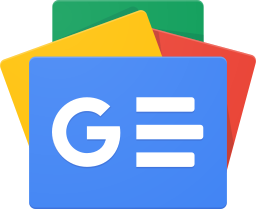 Stay up-to-date and support the site by following Bleeding Cool on Google News today!