"NHL 20" Reveals Its Hockey Ultimate Team Of The Year
EA Sports decided to have a little fun this week by revealing all six members of their NHL 20 Hockey Ultimate Team Of The Year. The whole thing is to recognize the best of the best, in their opinion, for the achievements they accomplished in 2019. All six players will receive, both in and out-of-game, recognitions such as custom skates, special in-game items and more. Enjoy the list of all six as well as a special NHL 20 video to go with it.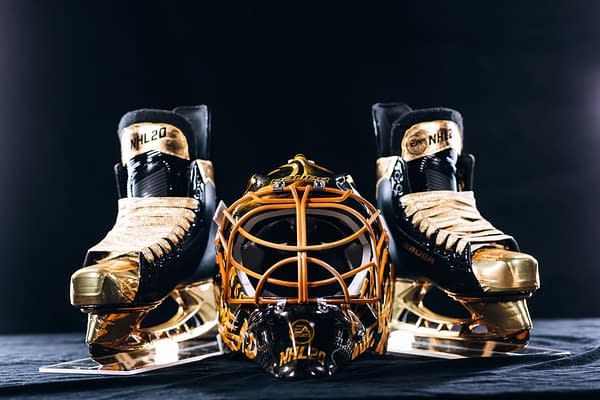 Jordan Binnington (Goalie; St. Louis Blues) – The backstop to one of the more unlikely Stanley Cup runs in NHL history, the rookie netminder helped turn the St. Louis Blues from a last-place team to Stanley Cup Champs by posting a 24-5-1 record in the regular season.

John Carlson (Defenseman; Washington Capitals) – At the end of the 2018-19 season, Carlson posted 70 points, fourth-most among defensemen and currently leads the NHL in points from a defenseman this season.

Brent Burns (Defenseman; San Jose Sharks) – Posting a career-high in points with 83 in the 2018-19 season, Burns' towering presence and elite skating ability easily puts him among the league's best blueliners.

Alexander Ovechkin (Left Wing; Washington Capitals) – The 2018-19 season saw The Great 8 capture his eighth Rocket Richard Trophy as the league's top scorer. With Stanley Cup Champion on his resume, Ovechkin is on a clear path to cementing himself as one of the sport's top players of all time.

Nikita Kucherov (Right Wing: Tampa Bay Lightning) – Kucherov took over the 2019 NHL Awards, winning the Hart Memorial Trophy (MVP), Art Ross Trophy and Ted Lindsay Award, on the coattails of a historic 128 point season.

Connor McDavid (Center; Edmonton Oilers) – Likely the game's unquestioned top player, McDavid keeps churning out 100 point seasons and has amassed a ridiculous 59 points in 37 games to start this year's campaign.