Those of you looking forward to all your favorite friends coming back to Animal Crossing: New Horizons, there's one name on the list you may not see. In a recent article on Mashable, the game's project lead Aya Kyogoku made a quick statement about the character, whose sole purpose is to remind you to turn your system off and not cheat, has been laid off. Since the Switch has an auto-save function, its no longer necessary for him to pop up and give you reminders, so his job no longer had a purpose. Here's a snippet from the article.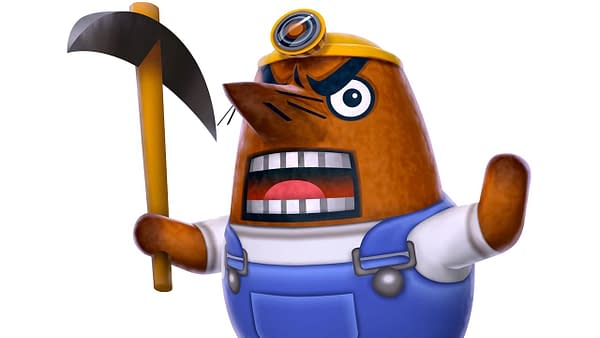 "I think this will be a positive thing for the player, because in New Horizons you can stop playing in the middle of your game and it'll still save," says Kyogoku. "But unfortunately because there's no necessity to reset the game or reset button on the Switch, Mr. Resetti had a hard time. He was laid off from his position."

But, folks, there's still hope for the most hilarious, beloved, and hated figures in Animal Crossing history.

"We also believe that Mr. Resetti is looking for a new job after his layoff. So please look forward to that," Kyogoku teases, potentially hinting that he'll assume a new role.
What the new role could be in the Animal Crossing universe remains to be seen, but we're guessing like all characters in the game, he'll be repurposed to help you with a function of the Switch itself. Knowing Nintendo, it will probably be a reminder system that its time for you to go to bed instead of playing past 9pm. Meaning us adults will now have to deal with the character on a regular basis since we can sleep whenever we feel like it.
Enjoyed this article? Share it!