Nintendo Reveals Min Min As Next Super Smash Bros. Ultimate Fighter
After months of wondering who would be added next, we found out Min Min from ARMS is the next Super Smash Bros. Ultimate fighter. After game director Masahiro Sakurai gave us a slight tour from his home and boasted he was the first Nintendo rep to do an announcement from home, we got to see the trailer as well as a full reveal of all her abilities. Which you can check out in the video below. The character is just min Min, no transforming into other ARMS characters, but comes with unique abilities and all of her powerups from the fighting game in unique ways. The character will be made available as DLC on June 29th, along with 18 music tracks from ARMS, and some new additions when an update is also made available for the game that same day. Plus, Mii fighters will be getting some new costumes including new crossover outfits from Fallout, Splatoon, Tekken, and ARMS. You can read more about her below and check out both videos from this morning's presentation.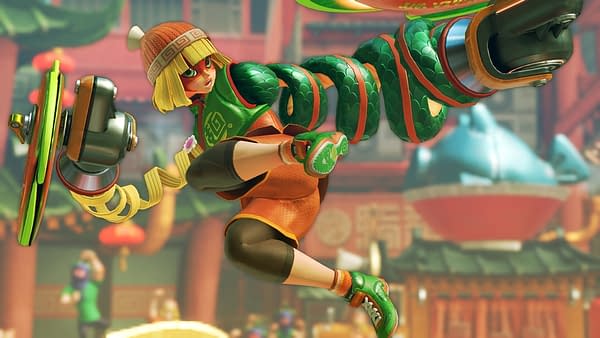 Min Min is the 81st video game character included as a playable fighter in Super Smash Bros. Ultimate, with a roster representing one of the largest crossovers of video game characters in history. From her humble beginnings as a ramen-loving employee at the Mintendo Noodle House, to her knockout performance as a champion contender in the ARMS Grand Prix, it's no stretch to say Min Min has made a huge name for herself. As a one-of-a-kind fighter, it's only natural for Min Min's fighting style in Super Smash Bros. Ultimate to be equally unique. Each of her extendable ARMS – the Ramram, the Megawatt and her laser-firing Dragon ARM – can be controlled individually and used to access a diverse range of tools.

Min Min's accompanying stage, Spring Stadium, features a variety of interactive elements ARMS players will instantly recognize, including the ability to damage opponents when making contact with them after using a jumping platform. Foes will also bounce off the striking ceiling arches when they're launched. The adorable ARMS drones will also make an appearance to deliver items that aid in battle, but make sure to approach them with caution when freeing boxes to claim their rewards!