Old Man Dante Stars in Devil May Cry 5's TGS Trailer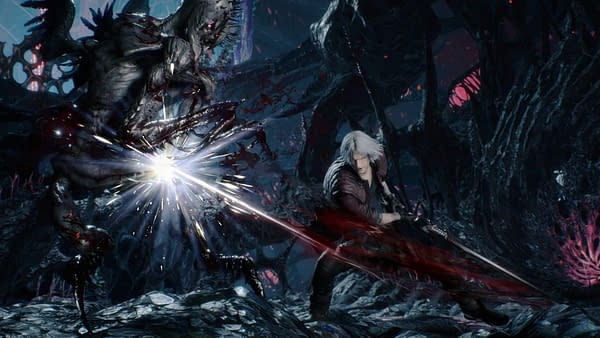 Capcom kicked off Tokyo Game Show today with a brand new trailer for the highly anticipated Devil May Cry 5 showing off some Dante gameplay. While the series protagonist is older and scruffier than ever this time around, his usual frenetic gameplay is back and looks pretty damn fun. This is our first look at Dante's gameplay in DMC 5 and it does not disappoint. You've got all the usual hallmarks: red leather jacket, trash metal soundtrack, and far too many weapons to count.
So, that's one thing confirmed: Dante is still the same old Dante.
Even if he does look like your crazy drunk uncle now.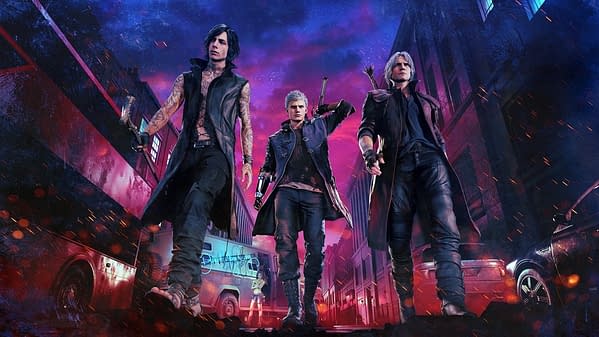 Also, the official PR blurb that made its way to the press alongside the Tokyo Game Show trailer gives us a pretty decent glimpse into the story of Devil May Cry 5. You can check it out below:
The city's gone to hell and back, completely overrun by demons from the underworld. Turns out, it's not just Red Grave City in trouble. They're everywhere. In Devil May Cry 5, legendary demon hunter Dante teams up with fellow demon hunter Nero and weapons artist Nico to push his investigation and extermination techniques to the limits. In a new trailer released today, see Dante back in action with his trusty sword Rebellion, guns Ebony and Ivory, and an utterly insane motorbike that splits at the handlebars to create twin blade weapons. Catch all this and much more, including a glimpse of Dante pulling his Devil Trigger, in the trailer featuring Dante's most over-the-top action gameplay in series history.

Nero and Dante take on the hellish onslaught to get to the root of the mystery behind the blood-sucking demon tree Qlipoth at the city center. Joining them are beloved series heroines and partners Trish and Lady who make a grand return. The full game will feature three playable characters each with their own radically different gameplay style. Play as Nero, Dante, and the newly introduced V, a mysterious new client for the "Devil May Cry" office that speaks in poetic verse. More will be revealed about V in the coming months.
Devil May Cry 5 is releasing March 8, 2019 on the Xbox One, PlayStation 4, and Windows PC.
A Deluxe Edition is available for pre-order now that includes exclusive over-the-top Devil Breaker arms for Nero, including one based on the Mega Buster from the Mega Man series, an option to replace cutscenes with behind-the-scenes pre-viz live action versions, and other special content.

You can check out the brand new TGS trailer below.