Opinion: On The Nature Of Emotes In Magic: The Gathering: Arena
Hello there, loyal readers! Today we will be discussing the nature and etiquette of emotes in Magic: The Gathering: Arena, Wizards of the Coast's online interface for Magic: The Gathering play. I'd like to begin with a disclaimer that none of these opinions reflect any entity bigger than myself – they aren't the opinions of Bleeding Cool, they aren't those of Wizards of the Coast – and they may not even be shared by me at times. But some players have oddly strong opinions about the emote system in Arena. Let's dive in!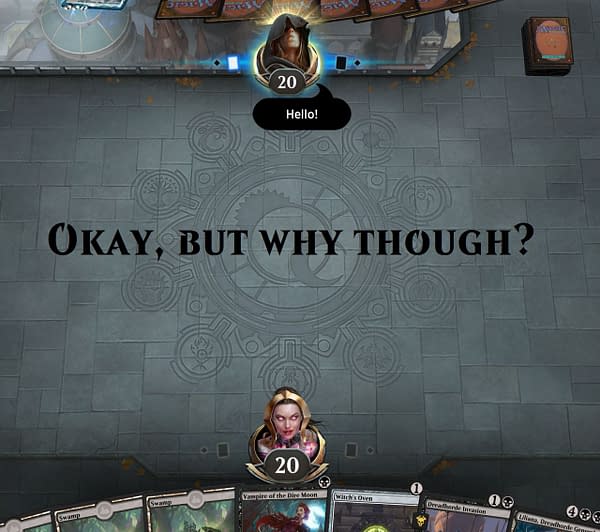 To me, personally, most of the time emotes are neither here nor there on as impersonal of a platform as Magic: The Gathering: Arena. Like in all esports, some communication is required for good and fulfilling gameplay. That being said, Arena doesn't quite need an emote system to work optimally between two random strangers. I know that I've gone many games without emoting to my opponents, or them emoting to me. I mostly ignore those happy few who do emote.
But other players are apt to see this topic differently and are fairly vocal about it. My fiance plays on Arena, and she hates when players who are winning emote "Good Game" to her as if the game has already ended – or worse, early enough on in the game that it comes off as smug. I'm always happy when she beats them because that is pretty cocky. After all, Magic: The Gathering is possibly the most complex game known to humankind to date, and even Deep Blue couldn't predict an outcome of a given matchup.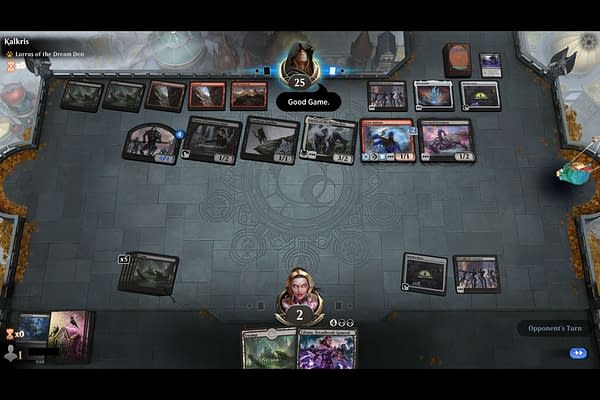 The emotes have gotten frustrating to the point where my fiance would happily disable them at the earliest convenience possible. Sure, to many the "Hello!" emote appears a friendly gesture, but it seems that sending emotes, even in a friendly way, gets on the receivers' nerves, even if they are culpable for sending them as well.
One person who answered a thread on Facebook, consenting to speak up about this, said simply:
I think most people take them the harshest way possible. Not sure if it is there victim mentality but not every "Oops" is someone being an ass. I have said it when and opponent tried to draw a second card with Narset [Parter of Veils] in play. I've also said when I have done the same. I send the "Thinking…" emote when I am actually thinking. I do that to tell me opponent this might take a few and to just be courteous. If someone is spamming emotes over and over then I do everything to beat them. That is how you shut them up. Other than that emotes just make me laugh. It just tells you how passive aggressive people actually are […]
His opinion, and his approach, in theory, make sense. The sooner you end a match, the sooner the stream of emotes will end, and hopefully the game will end on your terms. And yes, courtesy matters.
Another Magic: The Gathering: Arena player had thoughts about the etiquette of emotes in the game, with this to say on the matter:
It almost always comes off as rude unless it's an early game "Hello!" or a simple once only "Good game." if they are losing. I will be abandoning Arena once tournament magic opens back up for modern. But as a judge if someone sat there saying "Your go!" Or early "Good game." to people multiple times I'd boot them from the tournament. I'm honestly surprised they are used so negativity majority of the time.
Of course, there are other emotes that matter in this instance, such as the "Oops." in the first quote. A lot of people seem to like using it as a bluffing tool, it seems. But at the same time, people will often not fall for that bluff! It's an interesting tactic, and at some point, I'd like to get more into the psychology of the bluff in esports card games, but that's a topic for another article entirely.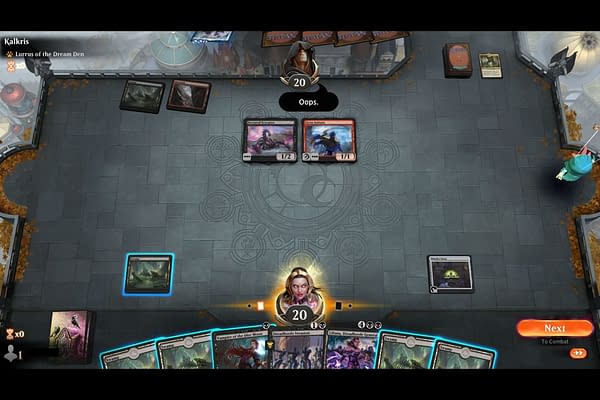 What do you think of emotes in Magic: The Gathering: Arena? Do you use them often if at all? Do you appreciate their usage? Let us know what you think in the comments below!