Overwatch League Team Chengdu Hunters Revealed
Blizzard has announced the latest Overwatch League team joining the competition in the form of the Chengdu Hunters.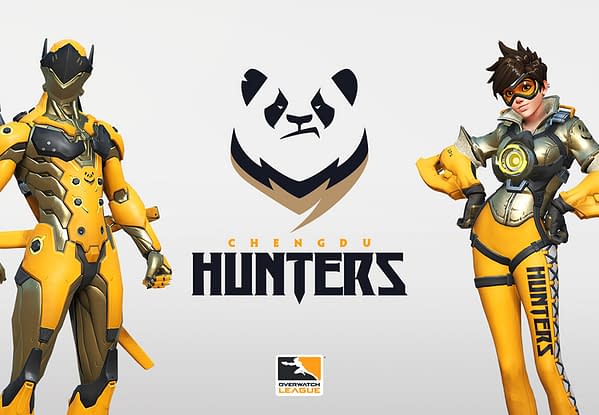 The Overwatch League is flying of late. The game won esport of the year last night at the Esports Awards alongside several big team additions. The league's season 2 is looking promising with big hope that the competition can grow an even bigger fanbase. We're expecting a couple more teams to be announced soon, but it is already time for another.
Overwatch League now welcomes the Chengdu Hunters. This makes the third Chinese team to join the league, behind Shanghai and Guangzhou. The team comes from HUYA Inc., sporting a panda logo and yellow and black colours. HUYA Incs. Wu Zefeng said in a quote (via ESPN):
The Overwatch League is an international league, and the Chengdu Hunters will not only impress the gaming world with their excellent performance but also will bring to the league more Chinese elements, increasing our diversity. The name, Chengdu Hunters, means bravery, smartness, swiftness, and team work; the name was chosen as a symbol of the team's dedication to pursuing the honor of the league.
No squad announcements have been made yet for the team, so we will have to wait to see what the team is bringing to the table.
The second season of Overwatch League is set to have a big Chinese element, with Hangzhou joining too. It's exciting as the league certainly felt a little US-centric in its first year. It's great to see the league ready to become much more global.