Pokémon TCG Chilling Reign Product Review: Build & Battle Box
It's Chilling Reign pre-release weekend! The latest set of the Pokémon TCG won't be out officially until June 18th, but tournament-official game stores can begin selling Build & Battle Boxes this weekend. I went down to my local game store, Brothers Grim Games in Selden, NY, and picked up two boxes. Let's crack them open and see what we get.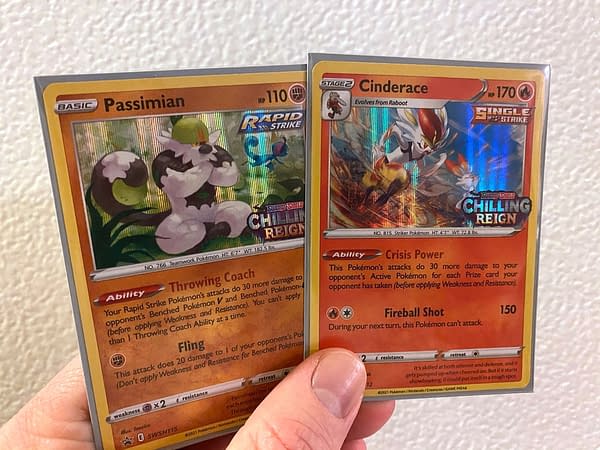 The Promos
In Chilling Reign Build & Battle Boxes, you get the packs of course but you also get one of four holographic Black Star Promos stamped with the Chilling Reign logo and a selection of cards to help with deck-building. The promos are the big draw here. You can get Inteleon, Cresselia, Passimian, or Cinderace… and it's completely random which one you'll end up with. My hope was to pull Cresselia and Inteleon… but let's be real, I'm going back tomorrow to get more in attempts to complete the set.
I ended up pulling the Passimian and the Cinderace. The opposite two I wanted to pull? For sure, but hey — I'm a completionist, so I needed these anyway. The Cinderace is quite nice, and I like the theme connecting these cards where they seem to be training with other Pokémon.
Chilling Reign Build & Battle Boxes are the same as those of previous sets: in addition to the stamped Black Star Promo, you get four packs. Unlike the forthcoming V Boxes, these will all be Chilling Reign packs. For my overall thoughts on the set so far, check out my reviews of the:
Pokémon TCG: Sword & Shield – Chilling Reign Booster Box
Pokémon TCG: Sword & Shield – Chilling Reign Elite Trainer Box
Basically, I think this is a terrific set. Build & Battle Boxes, unlike Booster Boxes, have no guaranteed pulls, so you can get really lucky… or you can get really unlucky. I went in hoping that, in my eight packs, I'd get one Full Art. It's a lofty goal, but hey – I'm a completionist.
So… how'd I do?
First, I am happy to note that Brothers Grim Games gives those buying the Build and Battle Boxes three extra packs. They had a limit of two per customer, so I was able to leave with a full total of fourteen packs. From these, I was able to pull two standard Pokémon V, three holo-rares, and a Full Art Blissey. Quite a nice haul.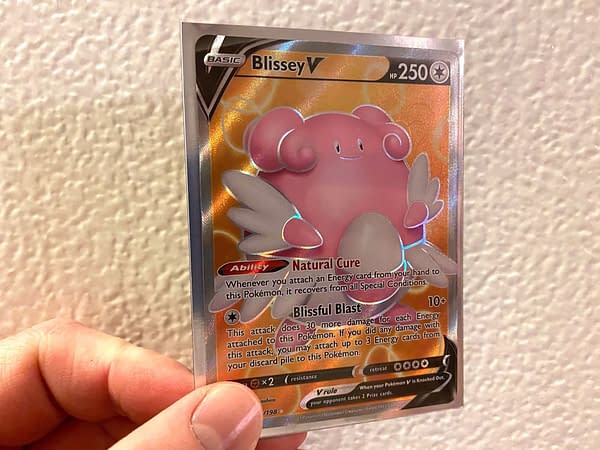 Overall
Overall, Pokémon TCG: Chilling Reign Build & Battle boxes are worth getting and opening. These boxes are, in my opinion, among the most exciting products to come out with any new set due to the packs, the low price point, and the fun of seeing which promo you're going to get.