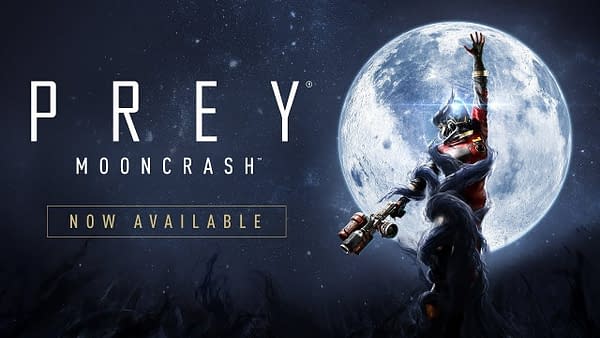 After a year of patching and bug fixes and listening to their community members, Arkane Studios is giving Prey two DLC packs this year. The first will be playable at Bethesda's E3 booth (and at the Bethesda conference tonight) but is also available to download right now. The DLC takes players up to the moon. You know, that thing they've been teasing for months now. Prey: Mooncrash is pretty much exactly what it sounds like, and comes with tons and tons of Typhon mimics, because of course it does.
You can check out Mooncrash below.
https://youtu.be/ySVBHI2OeAg
The second Prey DLC announced tonight is Typhon Hunter, which will be a multiplayer competitive mode. Some players will be mimics, while others must hunt them down. Yes, it's Prop Hunter with mimics. Typhon Hunter will be a free update for owners of Mooncrash. And will release later this summer.
Additionally, it will come with VR support as well as a special VR single-player mode. The VR Prey content will launch with the non-VR edition of Typhon Hunter. Because VR multiplayer Prop Hunter sounds fantastic.
And also like the worst idea I've ever heard. Which means I'll be playing it. Because I've never met a bad idea I didn't like.
We're not done yet! @PreyGame Typhon Hunter VR is coming later this summer as a free update to #Mooncrash. #BE3https://t.co/hwq9K8fphA pic.twitter.com/fXoBvpHFF3

— Bethesda (@bethesda) June 11, 2018
Additionally New Game + and Story Mode and Survival Mode are available as additional difficulties as a free update for all Prey owners.
You asked, we listened. Story Mode, Survival Mode, and New Game+ are available now in a free update to #Prey. #BE3https://t.co/DzKvEVP7uy pic.twitter.com/oaYNDbGUvf

— Bethesda (@bethesda) June 11, 2018
Enjoyed this article? Share it!