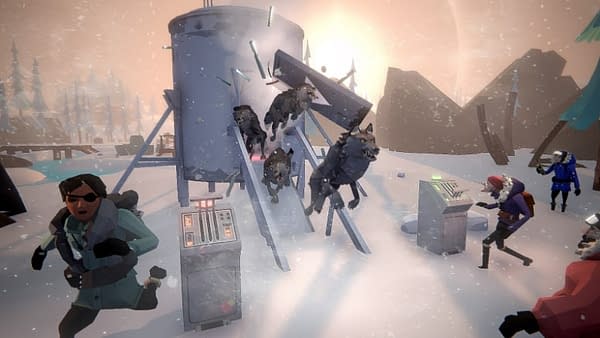 Other Ocean's Project Winter launched in Early Access earlier this month, bringing tons of snow and betrayal to players and influencers alike. Other Ocean released a new trailer today featuring stream highlights of players wreaking havoc on one another to celebrate the game's success in early access.
Other Ocean also released a development roadmap for the game which details their plans for Early Access updates. Planned changes include quality of life tweaks, cosmetics, event progression trees, survivor upgrades, and traitor upgrades.
The details on Project Winter's upcoming updates are below:
In-Game Upgrades
Host your own lobbies, with the option of password protecting them for private sessions with friends. See what the primary language of a lobby is and join the one you prefer.
New maps with more varied objectives and chances to sabotage!
New cosmetics and event-based progression trees
More varied weapons like a silent crossbow and automatic rifles
Nvidia Highlights to capture those traitorous moments
+ More
Survivor Upgrades
A rare truth serum that will privately reveal another player's role to the user
Items like energy drinks can be found and used to give players extra health, warmth or hunger stats, allowing them to stay out and survive longer
When few survivors remain, they will receive a special airdrop that can't be accessed by traitors, giving them a chance to repair the objectives on their own or go out in a blaze of glory
+ More
Traitor Upgrades
Swap outfits with a corpse and confuse your enemies!
Traitors will be able to see the traps placed by their comrade
New traitor airdrop abilities (ex: reveal the survivor's health bars above their heads)
Traitors will have an expanded arsenal of unique contextual actions for interfering with the survivors, enabling them to better slow the survivors down at the risk of being identified
+ More
You can check out the game's influencer trailer below.
Enjoyed this article? Share it!